Small Animal Medical Differential Diagnosis - Elsevier eBook on VitalSource, 2nd Edition
Elsevier eBook on VitalSource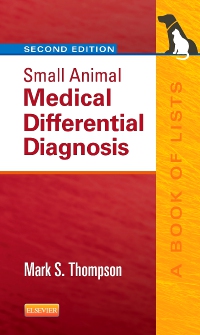 Or $0.00 with a valid access code
Small Animal Medical Differential Diagnosis, 2nd Edition is a practical, concise guide to the differential diagnosis, etiology, laboratory abnormalities, and classification of clinical signs and medical disorders in dogs and cats. By covering nearly every possible sign and clinical disorder relevant to small animal medical practice, this pocket-sized, rapid reference helps you make more reliable on-the-scene decisions.
More than 400 lists bring the most important medical diagnostic information from multiple resources into a single rapid reference.
An organized presentation of differential diagnoses by sign and symptom, disorder, and body system, facilitates quick and flexible access to information at many stages of the diagnostic work-up.
Alphabetical listing of all relevant laboratory tests makes information easy to find for students and experienced practitioners alike.
Easily identify the likeliest diagnosis by reviewing the possibilities listed in order of incidence.
Pocket-sized for portability, practicality, and quick reference.

NEW! Coverage of new disorders and syndromes expands the span of differential diagnoses to help you effectively evaluate more signs and symptoms.
NEW! Addition of new and more widely used diagnostic and laboratory tests keeps you up-to-date as lab tests become more specialized and sophisticated.

PART ONE: CLINICAL SIGNS APPROACH TO DIFFERENTIAL DIAGNOSIS

Abdominal Distension

Abdominal Effusions and Ascites

Abdominal Pain, Acute

Aggressive Behavior

Alopecia

Anaphylaxis

Anuria and Oliguria

Anxiety and Phobias

Ascites

Ataxia and Incoordination

Blindness

Bradycardia, Sinus

Cachexia and Muscle Wasting

Compulsive Behavior Disorders

Constipation

Coughing

Cyanosis

Deafness

Diarrhea, Acute

Diarrhea, Chronic

Dyschezia

Dysphagia

Dyspnea

Dysuria

Ecchymoses

Edema

Epistaxis

Failure to Grow/Failure to Thrive

Fever of Unknown Origin

Flatulence

Gagging

Genital dermatoses – NEW!

Halitosis

Head Tilt

Hematemesis

Hematochezia

Hematuria

Hemoptysis

Hemorrhage, Prolonged

Horner's Syndrome

Hyperpigmentation (increased melanin in the epidermis) – NEW!

Hyperthermia

Hypopigmentation (due to melanocyte destruction, dysfunction, or abnormal distribution of melanosomes) – NEW!

Hypothermia

Icterus (Jaundice)

Inappropriate Elimination

Incontinence, Fecal

Incontinence, Urinary

Infertility, Female (Canine)

Infertility, Male (Canine)

Joint Swelling

Lameness

Lymphadenopathy (Lymph Node Enlargement)

Melena

Muscle Wasting

Nasal Discharge

Nystagmus

Obesity

Oliguria

Pallor

Papules and Pustules

Paresis and Paralysis

Petechiae and Ecchymoses

Pollakiuria

Polyuria and Polydipsia

Pruritus

Ptyalism (Excessive Salivation)

Regurgitation

Reverse Sneezing – NEW!

Scaling and Crusting – NEW!

Seizure

Sneezing and Nasal Discharge

Stertor and Stridor

Stranguria, Dysuria, and Pollakiuria

Stomatitis

Stupor and Coma

Syncope

Tachycardia, Sinus

Tenesmus and Dyschezia

Tremor

Urine, Discolored

Urticaria/Angioedema

Vision Loss, Sudden

Vomiting

Weakness

Weight Gain

Weight Loss

PART TWO: SYSTEMIC APPROACH TO DIFFERENTIAL DIAGNOSIS

Section I

Cardiopulmonary Disorders

Arrhythmias

Aspiration Pneumonia– NEW!

Atrioventricular Valve Disease, Chronic (Mitral or Tricuspid Valve)

Cardiomegaly

Chylothorax – NEW!

Congenital Heart Disease

Heart Failure

Heartworm Disease

Hypertension

Laryngeal and Pharyngeal Disease

Lower Respiratory Tract Disease

Mediastinal Disease

Myocardial Diseases

Murmurs

Pericardial Effusion

Pleural Effusion

Pulmonary Disease

Pulmonary Edema

Pulmonary Thromboembolism

Tachycardia, Sinus

Section II

Dermatologic Disorders

Allergic Skin Disease

Alopecia, Endocrine

Erosions and Ulcerations of Skin or Mucous Membranes – NEW!

Folliculitis

Otitis Externa, Chronic

Parasitic Dermatoses

Pigmentation

Pyoderma

Section III

Endocrinologic and Metabolic Disorders

Acromegaly

Adrenal Tumors

Cretinism (Hypothyroidism in Puppies)

Diabetes Insipidus

Diabetic Ketoacidosis

Diabetes Mellitus

Gastrinoma (Zollinger-Ellison Syndrome)

Glucagonoma

Hyperadrenocorticism

Hyperglycemia

Hypoadrenocorticism

Hypoglycemia

Hyponatremia/Hyperkalemia

Insulinoma

Parathyroidism

Pheochromocytoma

Pituitary Dwarfism

Thyroid Disease

Section IV

Gastroenterologic Disorders

Chronic Constipation, Feline – NEW!

Diarrhea

Dental and Oral Cavity Diseases

Diseases of the Tongue – NEW!

Salivary Gland Disease

Esophageal Disease

Stomach Disorders

Small Intestinal Disease

Large Intestinal Disease

Ileus

Malabsorptive Diseases

Perianal Disease

Protein-Losing Enteropathy

Fecal Incontinence

Section V

Hematologic Disorders

Anemia

Coagulopathies, Inherited and Acquired

Leukocyte Disorders

Platelet Dysfunction

Splenitis/Splenomegaly

Thrombocytopenia

Section VI

Immunologic and Immune-Mediated Disorders

Autoimmune Skin Diseases

Immune-Mediated Disease

Immune System Components

Mechanisms of Immunopathologic Injury – NEW!

Organ Systems Affected by Autoimmune Disorders in the Dog and Cat -- NEW!

Systemic Lupus Erythematosus (SLE)

Section VII

Infectious Disease

Anaplasmosis, Canine – NEW!

Bacterial Infections, Systemic

Ehrlichiosis, Canine

Influenza, Canine – NEW!

Neorickettsiosis, Canine

Mycoses, Systemic – NEW!

Polysystemic Protozoal Diseases

Rocky Mountain Spotted Fever

Sepsis and Systemic Inflammatory Response Syndrome (SIRS)

Mark Thompson, DVM, DABVP(Canine and Feline), Brevard Animal Hospital, Brevard, North Carolina.