Mosby's Canadian Nursing Drug Reference
,
Paperback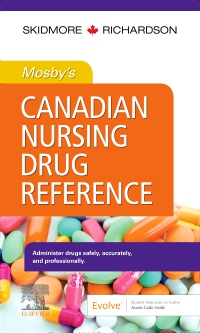 Free Shipping!
Not Yet Available
Coming Soon!
Expected availability date: 02-03-2020
The first truly Canadian adaption of the first-name in drug references! Mosby's Canadian Nursing Drug Reference, 1st Edition makes it easy for you to find the latest, most vital dosing and administration information on more than 5,000 Health Canada approved drugs. This portable, full-colour handbook emphasizes patient safety throughout with special !Warnings for potentially lethal reactions and Alerts for clinical situations requiring special attention. Designed to help you develop clinical reasoning in practice and think critically in the classroom, this unique nursing drug reference is perfect for use at home and on the job. The companion website includes classroom-friendly documents showing how to read drug references, descriptions of drug family classifications, therapeutic uses, overarching cautions, and more!
More than 5,000 Health Canada approved generic and trade-name drugs are profiled, covering almost every drug you will administer in practice or in clinicals.
Complete pharmacokinetic information includes the mechanism and absorption of the drug as well as its action, duration, and excretion.
Logical alphabetical organization by generic name provides quick and easy access to specific drugs, and a full-colour design highlights important information.
Nursing Process steps are used as the framework for organizing all nursing care information.
Logical organization of adverse effects organized by body system, are identified as common or life threatening, and show you signs to watch for during assessments.
Coverage of IV drug administration highlights dosage and IV administration instructions, including safety considerations and Y-site, syringe, and additive compatibilities.
!Warning feature icon alerts you to important information.
Nurse Alert feature icon highlights the most critical interactions and side-effects that you must be aware of during clinicals.

NEW! The latest Health Canada approved drugs ensures students have access to the most up-to-date medications.
NEW! Health Canada recommended vaccines and immune globulins appear throughout text for students to easily reference.
NEW! SI units included throughout the text for easy reference.
NEW! High-Alert Canadian Medications threaded throughout the text.
NEW! and UNIQUE! Biohazard alerts included to keep you safe when administering medications.
NEW! Canadian Controlled Substances threaded throughout the text.
NEW! Seven all-new comprehensive Canadian Appendices useful in practice and in nursing education.
NEW! Fully revised and expanded Evolve site including a pedagogical-oriented document of how to read and use a medication reference and the development of clinical reasoning in practice, overviews of drug classifications, case studies of patient-nurse encounters demonstrating best-practice and accompanying multiple choice review questions.

Individual drugs in A-Z Format

Appendices: A. Nursing Process Medication Management B. Ophthalmic and Topical Products C. Common Terminology Criteria for Adverse Effects (CTCAE) D. Vaccines and Specific Immune Globulins Available in Canada E. Quick Labs for Medication Management F. Medication Metabolism: Cytochrome P450 Enzymes and Inhibitors, Inducers, and Substrates G. Medications and Prolonged QT Interval H. Insulin and Insulin Analogs I. Medications for Pain, Delirium, and Palliative Approach

Endsheets: Endsheet SBAR for Medication Advocating Medication Math Formulas Abbreviations

Linda Skidmore-Roth, RN, MSN, NP, Consultant, Littleton, CO; Former Nursing Faculty, New Mexico State University, Las Cruces, NM; El Paso Community College, El Paso, TX and Faith Richardson, DNP, RN, Instructor, Practical Nursing; Practical Nursing Program, North Island College, Port Alberni, BC