Understanding Pathophysiology, Canadian Edition- Elsevier eBook on VST (Retail Access Card)
,
Elsevier eBook on VitalSource - Access Card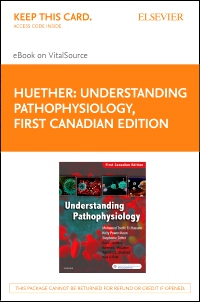 Free Shipping!
This item has low stock levels and may be back-ordered. We'll let you know if it is back-ordered, and you will not be charged until the item ships.
Learn the what, how, and why of pathophysiology within a Canadian context! With easy-to-read, in-depth descriptions of disease, disease etiology, and disease processes, Understanding Pathophysiology, Canadian Edition helps you understand the most important and most complex pathophysiology concepts. Including more than 1,000 full-colour illustrations and photographs, this text makes it easier to identify normal anatomy and physiology, as well as alterations of structure and function. With the most accurate information on treatments, manifestations, and mechanisms of disease across the lifespan, this first-edition text gives you the fundamental knowledge you need to succeed in your nursing education and career!
Consistent presentation of diseases includes pathophysiology, clinical manifestations, and evaluation and treatment.
Lifespan content includes nine separate pediatric chapters and special sections with aging and pediatrics content.
Algorithms and flowcharts of diseases and disorders make it easy for you to follow the sequential progression of disease processes.
Chapter summary reviews provide concise synopses of the main points of each chapter.
Glossary with approximately 1,000 terms familiarizes you with the most difficult and most important terminology.
Key terms are blue and bolded throughout the text to provide fast, easy reference.
Additional What's New boxes highlight the most current research and clinical development.
Nutrition and Disease boxes explain the link between concepts of health promotion and disease.
Quick Check boxes appear at the end of major sections of text and are designed to help you assess your retention of important chapter concepts.
Risk Factor boxes illustrate important safety considerations associated with specific diseases.
Did You Understand? end-of-chapter summaries provides you with a comprehensive review of the major concepts presented in each chapter.
An Introduction to Pathophysiology provides an entrance to the subject of pathophysiology and explains why it is important.

NEW! Canadian lab values provide core fundamental information required for practice in Canada
NEW! Canadian morbidity statistics provides you with the Canadian context in which you will be practising.
NEW! Canadian drug and treatment guidelines familiarize you with aspects of clinical practice you will encounter.
NEW! Health Promotion boxes align with the Canadian curriculum.

PART ONE: BASIC CONCEPTS OF PATHOPHYSIOLOGY

Unit 1: The Cell 1. Cellular Biology 2. Genes and Genetic Diseases 3. Epigenetics and Disease 4. Altered Cellular and Tissue Biology 5. Fluids and Electrolytes, Acids and Bases

Unit 2: Mechanisms of Self-Defense 6. Innate Immunity: Inflammation and Wound Healing 7. Adaptive Immunity 8. Infection and Defects in Mechanisms of Defense 9. Stress and Disease

Unit 3: Cellular Proliferation: Cancer 10. Biology of Cancer 11. Cancer Epidemiology 12. Cancer in Children and Adolescents

PART TWO: BODY SYSTEMS AND DISEASES

Unit 4: The Neurologic System 13. Structure and Function of the Neurologic System 14. Pain, Temperature, Sleep, and Sensory Function 15. Alterations in Cognitive Systems, Cerebral Hemodynamics and Motor Function 16. Disorders of the Central and Peripheral Nervous Systems and Neuromuscular Junction 17. Alterations of Neurologic Function in Children

Unit 5: The Endocrine System 18. Mechanisms of Hormonal Regulation 19. Alterations of Hormonal Regulation

Unit 6: The Hematologic System 20. Structure and Function of the Hematologic System 21. Alterations in Hematologic Function 22. Alterations of Hematologic Function in Children

Unit 7: The Cardiovascular and Lymphatic Systems 23. Structure and Function of the Cardiovascular and Lymphatic Systems 24. Alterations of Cardiovascular Function 25. Alterations of Cardiovascular Function in Children

Unit 8: The Pulmonary System 26. Structure and Function of the Pulmonary System 27. Alterations of Pulmonary Function 28. Alterations of Pulmonary Function in Children

Unit 9: The Renal and Urologic Systems 29. Structure and Function of the Renal and Urologic Systems 30. Alterations of Renal and Urinary Tract Function 31. Alterations of Renal and Urinary Tract Function in Children

Unit 10: The Reproductive Systems 32. Structure and Function of the Reproductive Systems 33. Alterations of the Female Reproductive System 34. Alterations of the Male Reproductive System

Unit 11: The Digestive System 35. Structure and Function of the Digestive System 36. Alterations of Digestive Function 37. Alterations in Digestive Function in Children

Unit 12: The Musculoskeletal and Integumentary Systems 38. Structure and Function of the Musculoskeletal System 39. Alterations of Musculoskeletal Function 40. Alterations of Musculoskeletal Function in Children 41. Structure, Function, and Disorders of the Integument 42. Alterations of the Integument in Children

Glossary Index

Sue E. Huether, RN, PhD, Professor Emeritus, College of Nursing, University of Utah, Salt Lake City, UT, Kathryn L. McCance, RN, PhD, Professor, College of Nursing, University of Utah, Salt Lake City, UT, Mohamed Toufic El-Hussein, RN, BSN, MSN, PHD, Mount Royal University, 4825 Mount Royal S.W., Calgary, AB, Kelly Power-Kean, RN, BN, MHS, NP, Memorial University, 100 Forest Road, Room 1010, Southcott Hall, Centre for Nursing Studies, St. John's, NL and Stephanie Zettel, MN, BN, B.Sc (Honours), Mount Royal University, School of Nursing and Midwifery, 4825 Mount Royal Gate SW, Calgary, Alberta T3E 6K6