Ethical & Legal Issues in Canadian - Elsevier eBook on VitalSource, 3rd Edition
Elsevier eBook on VitalSource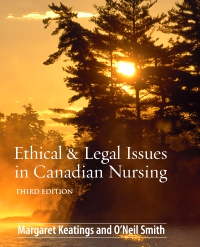 Or $0.00 with a valid access code
The only Canadian nursing book available that fully covers the often intertwined Ethical and Legal issues that healthcare professionals face today!

Focused solely on the ever-changing, and often complex healthcare landscape in Canada, Ethical & Legal Issues in Canadian Nursing, Third Edition, expertly offers readers an uncomplicated discussion and practical approach to this multifaceted topic.

The book aims to prepare students for the moral and legal realities they will face in practice, and to provide them with the necessary tools to confidently face the most challenging and difficult situations they will encounter.
• Written in a clear, straightforward style
• Appropriate coverage of both ethical and legal issues
• Provides a comprehensive introduction to the theoretical background of the topic
• Presents information in a practical way – the way students will encounter it in day-to-day practice
• Numerous case studies and examples, all nursing-specific

• Incorporation of the revised CNA Code of Ethics
• Discussion of privacy/confidentiality issues that accompany the increased use of technology in healthcare settings
• Addition of community health nursing examples
• Broad coverage of the ethical considerations unique to Canada's culturally diverse population
• New suite of electronic tools for both instructors and students

Chapter 1: Introduction to Nursing Law and Ethics

Chapter 2: Ethical Theoretical Perspectives

Chapter 3: Ethics Resources for Nurses

Chapter 4: The Canadian Legal System

Chapter 5: Regulation of the Nursing Profession

Chapter 6: Consent to Treatment

Chapter 7: The Nurse's Legal Accountabilities: Professional Competence, Misconduct, Malpractice, and Nursing Documentation

Chapter 8: End of Life

Chapter 9: Ethical and Legal Issues Related to Advancing Science and Technologies

Chapter 10: Patient Rights

Chapter 11: Caregiver Rights

Chapter 12: Ethical Issues in Leadership, the Organization, and Care

Margaret Keatings, RN (Retired), MHSc, Senior Advisor SickKids International, The Hospital for Sick Children, Toronto, Ontario and O'Neil B. Smith, BA, LLB(Ontario Bar)