Maternal Child Nursing Care, Canadian Edition - Elsevier eBook on VitalSource
,
Elsevier eBook on VitalSource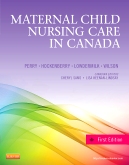 Or $0.00 with a valid access code
Finally, a Canadian text for maternity and pediatrics nursing courses! Canadian contributors have ensured that Maternal Child Nursing Care in Canada provides just the "right amount" of maternity and pediatrics content. User-friendly, up-to-date coverage offers everything you need for success in the classroom, the clinical setting, and on the CRNE examination.
UNIQUE! Nursing Process boxes offer quick access to nursing process information for major diseases and conditions.
UNIQUE! Nursing Alerts point out critical information to consider when caring for patients.
UNIQUE! Guidelines boxes outline instructions for skills or procedures in an easy-to-follow, step-by-step format.
UNIQUE! Emergency boxes offer quick reference to emergency procedures for critical maternity and pediatric emergencies.
UNIQUE! Home Care boxes offer helpful patient and family self-care guidelines for delivering effective care in the home environment.
UNIQUE! Atraumatic Care boxes in the pediatric section illustrate how to provide competent nursing care without creating undue physical or psychological stress for pediatric patients, families, and nurses.
UNIQUE! Community Focus boxes examine community issues and provide resources and guidance on caring for families outside the clinical setting.
UNIQUE! Cultural Awareness boxes address culturally competent care for patients with a variety of customs and beliefs.
UNIQUE! Family-Centered Teaching boxes discuss the family's role and needs in caring for the patient.

Fully revised to reflect Canadian nursing practice, Canadian cultural diversity, and Canadian best practice guidelines.
Canadian contributors provide the right amount of maternity and pediatric coverage, all within a Canadian context for nursing care.
The latest information in the field is incorporated throughout, including expanded coverage of the late preterm infant and fetal heart rate pattern identification.
Newcontent on evidence-informed practice illustrates how current research can be used to improve patient outcomes.
New and consolidated content on pain assessment and management focuses on this key aspect of pediatric nursing.

PART 1: PERINATAL NURSING

Unit 1: Introduction to Perinatal Nursing

Contemporary Perinatal Nursing in Canada
The Family and Culture
Community Care

Unit 2: Women's Health

Health Promotion
Health Assessment
Reproductive Health
Infertility, Contraception, and Abortion

Unit 3: Pregnancy

Preconception, Genetics, Conception, and Fetal Development
Anatomy and Physiology of Pregnancy
Nursing Care During Pregnancy
Maternal and Fetal Nutrition
Pregnancy Risk Factors and Assessment: Maternal and Fetal
Pregnancy at Risk: Gestational Conditions
Pregnancy at Risk: Preexisting Conditions

Unit 4: Childbirth

Labour and Birth Processes
Comfort Measures for Labour
Fetal Health Surveillance During Labour
Nursing Care During Labour and Birth
Labour and Birth at Risk

Unit 5: Postpartum Period

Maternal Physiological Changes
Nursing Care During the Fourth Trimester
Transition to Parenthood
Postpartum Complications

Unit 6: Newborn

Physiological Adaptations of the Newborn
Nursing Care of the Newborn
Newborn Nutrition and Feeding
Infants with Gestational Age-Related Problems
The Newborn at Risk: Acquired and Congenital Problems

PART 2: PEDIATRIC NURSING

Unit 7: Children, Their Families, and the Nurse

Contemporary Pediatric Nursing
Community-Based Nursing Care of the Child and Family
Family Influences on Child Health Promotion
Social, Cultural, and Religious Influences on Child Health Promotion
Developmental Influences on Child Health Promotion

Unit 8: Assessment of the Child and Family

Communication, History, Physical, and Developmental Assessment
Pain Assessment and Management

Unit 9: Health Promotion and Special Health Problems

The Infant and Family
The Toddler and Family
The Preschooler and Family
The School-Age Child and Family
The Adolescent and Family

Unit 10: Special Needs, Illness, and Hospitalization

Chronic Illness, Disability, and End-of-Life Care
Cognitive and Sensory Impairment
Family-Centred Home Care
Reaction to Illness and Hospitalization
Pediatric Variations of Nursing Interventions

Unit 11: Health Problems of Children

Respiratory Dysfunction
Gastrointestinal Dysfunction
Cardiovascular Dysfunction
Hematological and Immunological Dysfunction
Genitourinary Dysfunction
Cerebral Dysfunction
Endocrine Dysfunction
Integumentary Dysfunction
Musculoskeletal or Articular Dysfunction
Neuromuscular or Muscular Dysfunction

Appendixes

A. Relationship of Drugs to Breast Milk and Effect on Infant

B. Developmental/Sensory Assessment

C. Growth Measurements

D. Common Laboratory Tests

E. Pediatric Vital Signs and Parameters

Shannon E. Perry, RN, PhD, FAAN, Professor Emerita, School of Nursing, San Francisco State University, San Francisco, CA, Marilyn J. Hockenberry, PhD, RN-CS, PNP, FAAN, Bessie Baker Distinguished Professor of Nursing
Professor of Pediatrics
Chair, Duke Institutional Review Board
Duke University
Durham, NC, Deitra Leonard Lowdermilk, RNC, PhD, FAAN, Clinical Professor Emerita, School of Nursing, University of North Carolina at Chapel Hill, Chapel Hill, NC, David Wilson, MS, RN, C(INC), Staff
PALS Coordinator
Children's Hospital at Saint Francis
Tulsa, OK, Cheryl A Sams, RN, BScN, MSN, Professor Emerita, School of Health Sciences, Seneca College of Applied Arts and Technology, Toronto, ON and Lisa Keenan-Lindsay, RN, MN, PNC(C), LCCE, Professor, School of Health Sciences, Seneca College of Applied Arts and Technology, Toronto, ON