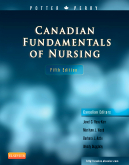 Canadian Fundamentals of Nursing
,5th Edition
Hardcover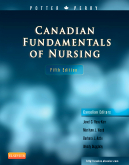 In Stock
This item has low stock levels and may be back-ordered. We'll let you know if it is back-ordered, and you will not be charged until the item ships.
Thoroughly updated to include the latest emerging issues and protocols in Canadian nursing practice, Canadian Fundamentals of Nursing, 5th Edition combines unparalleled Canadian nursing coverage with innovative, fully integrated learning and teaching support to help you easily build the most effective fundamentals curriculum. The Potter team's proven, student-friendly approach describes the principles, concepts, and skills essential to your students' success, and comprehensive educator support tools seamlessly coordinate all of your course resources to enhance your teaching capabilities and help you meet all of your curriculum goals. Thoroughly reviewed by Canadian nursing experts, this edition ensures that your students are well prepared to practice in Canada.
Comprehensive Canadian content throughout the text ensures you are well-prepared to practice in Canada.
Nursing Assessment Questions boxes help you learn to effectively phrase questions for clients.
Cultural Aspects of Care boxes summarize cultural considerations related to the chapter topic and provide practical guidelines for how to meet clients' cultural needs and preferences.
Patient Teaching boxes help you plan effective teaching by first identifying outcomes, then developing strategies on how to teach, and, finally, implementing measures to evaluate learning.
Focus on Older Adult boxes highlight key aspects of nursing assessment and care for this population.
Evidence-Informed Practice boxes summarize recent guidelines for nursing practice.

NEW! Content on global health written by Canadian expert, Judy Mill, reflects Canada's focus on global health and diversity.
NEW! Expanded coverage of nursing communication, family nursing; spiritual health; medication administration; safety; hygiene; fluid, electrolyte, and acid-base balances; sleep; pain assessment and management; nutrition; and bowel elimination reflects the most up-to-date best practices.
NEW! Enhanced chapter on communication includes the most current research on key issues such as aphasia, transpersonal communication, communication with older adults, and adapting communication for clients with special needs.
UPDATED chapter on nursing informatics reflects the latest information on Canada Health Infoway and core competencies of the EHR, Canadian privacy legislation (PIPEDA), and CNA's e-nursing strategy.
UPDATED chapter on health assessment and physical examination focuses on holistic assessment of health and emphasizes culturally competent care.
EXPANDED chapter on pain assessment and management includes new content on the undertreatment of chronic pain, coping strategies for pain, and pain assessment scales.

Unit 1: Health and Health Care in Canada

Health and Wellness
The Canadian Health Care Delivery System
The Development of Nursing in Canada
Community Health Nursing Practice

Unit 2: Foundations of Nursing Practice

Theoretical Foundations of Nursing Practice
Research as a Basis for Practice
Nursing Values and Ethics
Legal Implications in Nursing Practice
Global Health, Culture, and Ethnicity
Nursing Leadership, Management, and Collaborative Practice

Unit 3: Approaches to Nursing Care

Critical Thinking in Nursing Practice
Nursing Assessment and Diagnosis
Planning and Implementing Nursing Care
Evaluation of Nursing Care
Documenting and Reporting
Nursing Informatics

Unit 4: Working with Clients and Families

Communication
Caring in Nursing Practice
Family Nursing
Client Education

Unit 5: Caring Throughout the Lifespan

Developmental Theories
Conception Through Adolescence
Young to Middle Adulthood
Older Adulthood

Unit 6: Psychosocial Considerations

Self-Concept
Sexuality
Spiritual Health
The Experience of Loss, Death, and Grief
Stress and Adaptation

Unit 7: Scientific Basis for Nursing Practice

Vital Signs
Health Assessment and Physical Examination
Infection Control
Medication Administration
Complementary and Alternative Therapies

Unit 8: Basic Physiological Needs

Activity and Exercise
Safety
Hygiene
Cardiopulmonary Functioning and Oxygenation
Fluid, Electrolyte, and Acid-Base Balances
Sleep
Pain Assessment and Management
Nutrition
Urinary Elimination
Bowel Elimination

Unit 9: Clients with Special Needs

Mobility and Immobility
Skin Integrity and Wound Care
Sensory Alterations
Care of Surgical Clients

Patricia A. Potter, RN, MSN, PhD, FAAN, Director of Research, Patient Care Services
Barnes-Jewish Hospital
St. Louis, MO, Anne Griffin Perry, RN, EdD, FAAN, Professor and Associate Dean, School of Nursing, Southern Illinois University, Edwardsville, IL, Janet C. Ross-Kerr, RN, BScN, MS, PhD, Professor Emeritus, Faculty of Nursing, University of Alberta, Edmonton, Alberta, Marilynn J. Wood, RN, BSN, MN, DrPH, Professor Emeritus, Faculty of Nursing, University of Alberta, Edmonton, Alberta, Barbara J. Astle, PhD, RN, Associate Professor, School of Nursing; Director, Centre for Equity & Global Engagement, Trinity Western University, Langley, British Columbia and Wendy Duggleby, RN, PhD, AOCN, Associate Dean Research and Nursing Research Chair Aging and Quality of Life;
Director Innovations in Seniors Care Research Unit,
Faculty of Nursing Level 3, Edmonton Clinic Health Academy,
University of Alberta,
Edmonton, Alberta
In Stock
This item has low stock levels and may be back-ordered. We'll let you know if it is back-ordered, and you will not be charged until the item ships.