Physical Examination and Health Assessment - Canada - Elsevier eBook on VitalSource, 2nd Edition
Elsevier eBook on VitalSource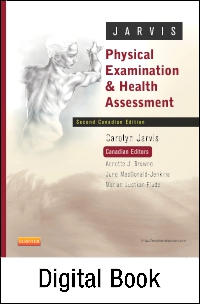 Or $0.00 with a valid access code
With an easy-to-read approach and unmatched learning support, Physical Examination & Health Assessment, Second Edition offers a clear, logical, and holistic approach to physical exam across the lifespan. Detailed illustrations, summary checklists, and new learning resources ensure that you learn all the skills you need to know. This gold standard in physical exam reflects what is going on in nursing today with coverage of emerging trends and new evidence-based content. It's easy to see why this text is, far and away, #1 in this market!
* Reflects the latest in Canadian research, practice guidelines, screening tools and guidelines, and assessment tools.

* Includes Canadian terminology, statistics, references, and web resources. Reflects the CNA Code of Ethics for Registered Nurses.

* Revised to reflect Canadian culture and society.

* Includes comprehensive Canadian student resources such as a free companion Web site and a free companion CD-ROM (with case studies, health promotion guides, examination videos, and assessments)

* Features a unique format that visually segments each body system chapter into five major sections: Structure & Function, Subjective Data, Objective Data, Abnormal Findings, and Application and Critical Thinking.

* Presented in a two-column, full-colour format that distinguishes normal findings from abnormal findings, using colourful, step-by-step photos.

* Contains "abnormal findings" tables, in an atlas format, that expand on content in the examination section and show frequently encountered conditions. Pathology photos combine with original art to help students recognize, sort, and describe abnormal findings.

* Uses over 1,000 full-colour illustrations to enhance learning by presenting anatomy and physiology and examination techniques more clearly.

* Features extensive coverage of culture reflecting the importance of diversity and cultural awareness in Canada. Content on Canadian culture appears both in a separate chapter and throughout the text.

* Integrates life span content throughout the text to help students learn common variations for all age groups. Focuses first on typical adult content, then on age-specific content for infants, children, adolescents, pregnant females, and aging adults.

* Includes a separate pregnancy chapter describing the physiological adaptation of a woman's body to pregnancy, relevant health history, pelvic examinations, the special physical examinations required when examining pregnant females, and abnormal findings to consider.

* Offers "summary checklists" at the end of each body system chapter that summarize the examination steps and help students to develop mental checklists.

* Provides documentation examples showing the charting of normal findings.

NEW evidence-informed guidelines ensure a focus on conducting the most effective, qualitative exams.
NEW Health Promotion in the Context of Health Assessment chapter explains the concepts of health promotion (including levels of prevention, social determinants of health, and the health care provider's role in health promotion efforts)
NEW Substance Use and Health Assessment chapter addresses this increasingly critical aspect of holistic patient assessments.
100 new photos of step-by-step examination techniques include all-new exam panoramas for key systems.
100 new abnormal findings photos provide instant visual cues for findings that are unexpected or that require referral for follow-up care.

UNIT 1: ASSESSMENT OF THE WHOLE PERSON

Chapter 1: Critical Thinking and Evidence-Informed Assessment

Chapter 2: Health Promotion in the Context of Health Assessment NEW!

Chapter 3: Cultural Competence: Cultural Care

Chapter 4: The Interview

Chapter 5: The Complete Health History

Chapter 6: Mental Health Assessment

Chapter 7: Substance Use in the Context of Health Assessment NEW!

Chapter 8: Interpersonal Violence Assessment

UNIT 2: APPROACH TO THE CLINICAL SETTING

Chapter 9: Assessment Techniques and the Clinical Setting

Chapter 10: General Survey, Measurement, and Vital Signs

Chapter 11: Pain Assessment

Chapter 12: Nutritional Assessment and Nursing Practice

UNIT 3: PHYSICAL EXAMINATION

Chapter 13: Skin, Hair, and Nails

Chapter 14: Head and Neck, Including Regional Lymphatic System

Chapter 15: Eyes

Chapter 16: Ears

Chapter 17: Nose, Mouth, and Throat

Chapter 18: Breasts and Regional Lymphatic System

Chapter 19: Thorax and Lungs

Chapter 20: Heart and Neck Vessels

Chapter 21: Peripheral Vascular System and Lymphatic System

Chapter 22: Abdomen

Chapter 23: Anus, Rectum, and Prostate

Chapter 24: Musculoskeletal System

Chapter 25: Neurological System

Chapter 26: Male Genitourinary System

Chapter 27: Female Genitourinary System

UNIT 4: INTEGRATION OF THE HEALTH ASSESSMENT

Chapter 28: The Complete Health Assessment: Putting It All Together

Chapter 29: Bedside Assessment of the Hospitalized Patient

Chapter 30: Pregnancy

Chapter 31: Functional Assessment of the Older Adult

Carolyn Jarvis, PhD, APN, CNP, Professor, School of Nursing, Illinois Wesleyan University; Nurse Practitioner, Community Health Care Clinic, Bloomington, Illinois, Annette J. Browne, RN, PhD, FCAHS, Professor and Distinguished University Scholar ,Associate Director, Graduate Programs School of Nursing University of British Columbia Vancouver, BC, June MacDonald-Jenkins, RN, BScN, MSc, Sr. Dean Faculty of Social and Community Services
Principal, Lakeshore Campus
Humber Institute of Technology and Advanced Learning
Toronto, Ontario and Marian Luctkar-Flude, RN, PhD, CCSNE, Associate Professor, School of Nursing, Queen's University, Kingston, ON.