Manual of Natural Veterinary Medicine
,
Paperback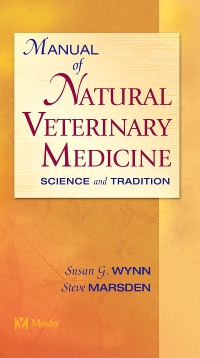 Free Shipping!
In Stock
This item has low stock levels and may be back-ordered. We'll let you know if it is back-ordered, and you will not be charged until the item ships.
This handy reference provides users with an understanding of complementary and alternative treatment options for more than 130 common disease states. A practical manual, it describes a variety of possible approaches to small animal disorders. Concentrating on nutrition, herbs, traditional Chinese medicines, and physical therapies, the authors present both tradition- and evidence-based therapies for disorders not always responsive to conventional therapies. Each monograph-style discussion of natural therapies for disorders common to specific body systems presents therapeutic rationales with the goals of treatment, alternative therapies with conventional bases, paradigmatic options, and authors' suggestions from which they've experienced success. Key references are also included at the conclusion of each chapter.
Presents new and alternative therapies with scientific support, encouraging veterinarians explore new therapies with confidence.
Helps veterinarians develop treatment plans - a vast improvement over large texts that simply introduce the therapies.
Clearly explains esoteric concepts of traditional Chinese medicine in updated language.
Practical, user-friendly pocket manual format allows for quick access in the clinical setting.
Chapters are organized logically by body system and disorders are alphabetized within each chapter.
Each body system chapter includes a case report that describes the history, physical examination, assessment, treatment, and outcome of a specific patient to further illustrate how to develop a treatment plan.
Each appendix offers practical backup for designing treatment plans, from homemade diets and Chinese food therapy to oral herb doses and a valuable herb cross-reference table.

Part One Fundamentals of Chinese Medicine
1. The meat and potatoes of Chinese medicine: the cooking pot analogy
2. Chinese medicine as a basis for an alternative medical approach
Part Two Clinical Strategies by Organ System
3. Therapies for behavior disorders
4. Therapies for cardiovascular disorders
5. Therapies for dermatologic disorders
6. Therapies for digestive disorders
7. Therapies for ear diseases
8. Therapies for endocrine disorders
9. Therapies for hematologic and immunologic disorders
10. Therapies for infectious diseases
11. Therapies for liver diseases
12. Therapies for musculoskeletal disorders
13. Therapies for neoplastic disorders
14. Therapies for neurologic disorders
15. Therapies for ophthalmologic disorders
16. Therapies for respiratory disorders
17. Therapies for reproductive disorders
18. Therapies for urologic disorders
Appendix A Guidelines for Homemade Diets
Appendix B Chinese Food Therapy
Appendix C Suggested Oral Herb Doses
Appendix D Chinese Herb Cross Reference Table
Appendix E Acupuncture Points

Susan G. Wynn, DVM, Wynn Clinic for Therapeutic Alternatives, Marietta, GA and Steve Marsden, DVM, ND, MSOM, LAc, Dipl C.H., Co-founder, Edmonton Holistic Veterinary Clinic, The Natural Path Clinic, Edmonton, Alberta; Instructor, American Association of Veterinary Acupuncture, International Veterinary Acupuncture Society, and Academy of Veterinary Acupuncturists of Canada