Veterinary Herbal Medicine
,
Hardcover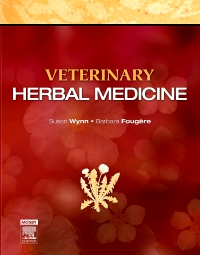 Free Shipping!
In Stock
This item has low stock levels and may be back-ordered. We'll let you know if it is back-ordered, and you will not be charged until the item ships.
This full-color reference offers practical, evidence-based guidance on using more than 120 medicinal plants, including how to formulate herbal remedies to treat common disease conditions. A body-systems based review explores herbal medicine in context, offering information on toxicology, drug interactions, quality control, and other key topics.
More than 120 herbal monographs provide quick access to information on the historical use of the herb in humans and animals, supporting studies, and dosing information.
Includes special dosing, pharmacokinetics, and regulatory considerations when using herbs for horses and farm animals.
Expanded pharmacology and toxicology chapters provide thorough information on the chemical basis of herbal medicine.
Explores the evolutionary relationship between plants and mammals, which is the basis for understanding the unique physiologic effects of herbs.
Includes a body systems review of herbal remedies for common disease conditions in both large and small animals.
Discusses special considerations for the scientific research of herbs, including complex and individualized interventions that may require special design and nontraditional outcome goals.

1. Why Use Herbs?

I. Historical Relationship between Plants and Animals

2. Zoopharmacognosy

3. Ethnoveterinary Medicine: Potential Solutions for Large-Scale Problems

4. The Roots of Veterinary Botanical Medicine

5. Overview of Traditional Chinese Medicine: The Cooking Pot Analogy

6. Ayurvedic Veterinary Medicine: Principles and Practices

II. Herbal Medicine Controversies

7. Evaluating, Designing and Accessing Herbal Medicine Research

8. Regulation and Quality Control

9. A Skeptical View of Herbal
Medicine
III. The Plants

10. Medical Botany

11. Plant Chemistry in Veterinary Medicine: Medicinal Constituents and their Mechanisms of Action

12. Herbal Medicine: Potential for Intoxication and Interactions with Conventional Drugs

13. Herbal Energetics: The Key to Efficacy in Herbal Medicine

14. Herb Manufacture, Pharmacy and Dosing

15. Herbal Materia Medica

16. Designing the Medicinal Herb Garden

17. Commercial Organic Herb Production for Veterinary Medicine

18. Conserving Medicinal Plant Biodiversity

19. Safe Substitutes for Endangered Herbs: Plant Conservation and Loss of our Medicines

IV. Veterinary Clinical Uses of Medicinal Plants

20. Approaches in Veterinary Herbal Medicine Prescribing

21. Herbs for Hematologic and Immunologic Disorders

22. Herbal Medicine in Equine Practice

23. Phytotherapy for Dairy Cows

24. Organic Management of Food Producing Livestock

25. Clinical Practice

V. Resources

A. Client Handouts

a. How to Administer Herbs

b. How to Report Adverse Events

B. Training in Herbal Medicine

C. Suppliers

D. Websites and Other Texts

Susan G. Wynn, DVM, Wynn Clinic for Therapeutic Alternatives, Marietta, GA and Barbara Fougere, BVSc, BVMS(Hons), Acupuncture and Natural Therapies, Rozelle, New South Wales, Australia