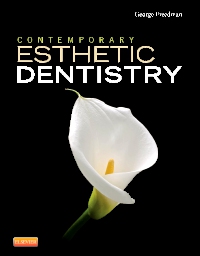 Publication Date:
12-19-2011
Contemporary Esthetic Dentistry, 1st Edition
Hardcover
Publication Date:
12-19-2011
Most review copies are eBooks – how fast!
This item has low stock levels and may be back-ordered. We'll let you know if it is back-ordered, and you will not be charged until the item ships.
Covering both basic and advanced cosmetic procedures, Contemporary Esthetic Dentistry helps in developing the skills necessary for creating esthetically pleasing restorations. With over 2,400 full-color illustrations, this definitive reference discusses the importance of cariology and caries management, then covers essential topics such as ultraconservative dentistry, color and shade, adhesive techniques, anterior and posterior direct composites, and finishing and polishing. Popular esthetic treatment options are described in detail, including bleaching, direct and porcelain veneers, and esthetic inlays and onlays. Coverage of advanced procedures includes implants, perioesthethics, ortho-esthetics, and pediatric esthetics, providing a solid understanding of treatments that are less common but can impact patient outcomes. Not only does Contemporary Esthetic Dentistry cover today's technologies and trends, it also allows dentists and dental hygienists to earn Continuing Education credits.
Continuing Education credits are available, allowing you to earn one to two CE credits per chapter.

Detailed coverage of popular esthetic procedures includes bleaching, direct and porcelain veneers, inlays and onlays, posts and cores, porcelain-fused-to-metal restorations, zirconium crowns and bridges, and complete dentures.

Coverage of advanced procedures includes implants, perioesthethics, ortho-esthetics, pediatric esthetics, and sleep-disordered breathing, providing a solid understanding of less-frequently encountered topics that impact the esthetic treatment plan and outcomes.

Coverage of key esthetic dentistry topics and fundamental skills includes cariology and caries management, understanding dental materials, photography, understanding and manipulating of color and shade, adhesive techniques, anterior and posterior direct composites, and finishing and polishing.

Over 2,400 full-color photos and illustrations help to clarify important concepts and techniques, and show treatments from beginning of the case to the final esthetic results.

Well-known and respected lead author George Freedman is a recognized author, educator, and speaker, and past president of the American Academy of Cosmetic Dentistry and co-founder of the Canadian Academy for Esthetic Dentistry.

Expert contributors are leading educators and practicing clinicians, including names such as Irvin Smigel (the father of esthetic dentistry), Chuck N. Maragos (the father of contemporary diagnostics), Wayne Halstrom (a pioneer in the area of dental sleep medicine), David Clark (one of the pioneers of the microscope in restorative dentistry and founder the Academy of Microscope Enhanced Dentistry), Edward Lynch (elected the most influential person in UK Dentistry in 2010 by his peers), Joseph Massad (creator, producer, director, and moderator of two of the most popular teaching videos on the subject of removable prosthodontics), Simon McDonald (founder and CEO of Triodent Ltd, an international dental manufacturing and innovations company), and many more!

1. Cariology and Caries Management

Section A: Caries Risk Assessment

Section B: Cariology: Its Role in Esthetic Dentistry

2. Dental Materials

Section A: Dental Materials

Section B: Impression Materials

3. Photography: Digital and Analog

Section A: Photography

Section B: Digital and Chemical Photography

4. Ultraconservative Dentistry

5. Porcelain Veneers

Section A: Smile Design

Section B: The Esthetic Try-In

6. The Non-Surgical Face Lift: Restoring a Youthful Appearance by Repositioning the Muscles of Facial Expression

7. Color and Shade

Section A: Understanding and Manipulating Color

Section B: Using Color to Create Restorations

8. Adhesion

Section A: The Evolution of Adhesive Techniques

Section B: Dentin Bonding

9. Anterior Direct Composites

Section A: Direct Anterior Bonding: Minimally Invasive at its Best

Section B: Predictable Customized Class IV Restorations

10. Posterior Direct Composites

Section A: Posterior Composites

Section B: Posterior Contact Points

11. Polishing

Section A: Current Technology and Clinical Approaches to Polishing of Dental Restorations

Section B: Finishing and Polishing

Section C: Finishing and Polishing

12. Fiber Reinforcement

Section A: Direct Fiber-Reinforced Composite

Section B: A Unique Treatment Modality

13. Glass Ionomer Restoratives

14. Bleaching

Section A: Tooth Bleaching

Section B: In-office and Home Bleaching

Section C: Innovative Elements from a Scientific or Technological Perspective that have Appeared in Bleaching over the Past Decade

15. Direct Veneers

Section A: Direct Composite Bonding

Section B: Transitional Bonding

Section C: A Histological Approach to Layering Direct Anterior Composite Restorations

16. Porcelain Veneers

Section A: Porcelain

Section B: Inserting Esthetic Restorations

Section C: Porcelain Laminate Veneers

17. Esthetic Inlays and Onlays

18. Esthetic Posts

19. Single-Tooth All-Ceramic Restorations

20. Ceramics: Porcelain-Fused-to-Metal Restorations

21. Porcelain-Fused-to-Metal and Zirconium Crowns and Bridges

22. Dentist-Lab Technician Communications

23. Cements

Section A: Contemporary Dental Cements

Section B: Dual Cured Resin Cements and Esthetic Supragingival Margins

24. Complete Denture Esthetics

25. Precision and Semi-Precision Attachments

26. Technology and Esthetics

Section A: Minimally Invasive Dentistry

Section B: Diode Lasers: The Soft Tissue Handpiece

Section C: Soft and Hard Tissue Lasers

Section D: Photo-Activated Disinfection

Section E: Soft Tissue Screening

27. Minimally Invasive Implant Esthetics

28. Perioesthetics

Section A: Periodontal Esthetics and Periodontal Plastic Surgery

Section B: Relating Function and Esthetics

29. Ortho-Esthetics

Section A: Relevance of Functional Appliance Treatment to Esthetic Dentistry and Temporomandibular Health

Section B: Orthodontics as a Basis for Esthetics

30. Pediatric Dental Procedures

31. Sleep and Snoring

32. Sterilization and Disinfection

Section A: Sterilization

Section B: Disinfection

33. Communication

Section A: Patient Communication

Section B: Patient Management

34. Practice Management

Section A: Establishing an Esthetic Dental Practice

Section B: Managing an Esthetic Dental Practice

35. Evaluating Esthetic Materials

George A. Freedman, DDS, BSc, DCS, HSL, Past President, American Academy of Cosmetic Dentistry; Co-Founder, Canadian Academy of Esthetic Dentistry