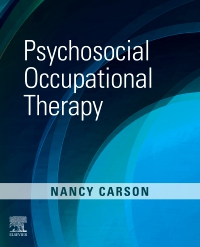 Publication Date:
12-02-2019
Psychosocial Occupational Therapy - Elsevier eBook on VitalSource, 1st Edition
Elsevier eBook on VitalSource
Publication Date:
12-02-2019
Help students develop the psychosocial skills needed to treat clients with any diagnosis in any setting! Psychosocial Occupational Therapy uses evidence-based models to demonstrate effective Occupational Therapy for people diagnosed with mental health conditions. Clearly and logically organized, the book begins with theories and concepts and follows with in-depth coverage of OT interventions in both individual and group contexts. Case studies and models show how to apply the newest Occupational Therapy Practice Framework (OTPF) in selecting treatment strategies. Psychosocial Occupational Therapy helps your students understand and treat clients with mental health issues.
UNIQUE! At least two cases studies in each clinical chapter show how to apply the Occupational Therapy Practice Framework (OTPF) in determining treatment options, and one or more conceptual models address the psychosocial needs of clients.
Using the Occupational Therapy Practice Framework chapter describes how to apply the latest version of the OTPF to the practice of occupational therapy.
Balanced approach to psychosocial occupational therapy includes thorough coverage of primary diagnoses, as well as occupational and psychosocial theories, models, and approaches.
Emphasis on clinical reasoning skills provides insights on how to select treatment strategies based on the conceptual theories and models presented in the earlier chapters; the information on diagnoses also references the DSM-5.
A focus on psychosocial skills makes it easier to adjust your way of approaching a client, the nature of the therapeutic relationship, and the direction and eventual outcomes of intervention — regardless of the setting or the primary diagnosis.
Coverage of therapeutic interaction skills and group process skills shows how to provide treatment in both individual and group settings.

Part I: Introduction
1. Occupational Therapy in Mental Health: Historical and Current Perspectives
2. Therapeutic Interpersonal Skills
3. Group Processes
4. Using the Occupational Therapy Practice Framework
Part II: Theoretical Approaches and Occupational Therapy Assessment
5. Occupation-Centered Practice Models
6. Psychosocial Theories
7. Cognitive Approaches
8. Sensory Modulation
Part III: Mental Illness and Occupational Therapy Practice
9. Mood Disorders
10. Anxiety Disorders
11. Schizophrenia
12. Substance Use Disorders
13. Neurocognitive Disorders
14. Other Psychiatric Diagnoses
Part IV: Practice Considerations
15. Emotional Impact of Physical Illness or Injury
16. Pediatric Mental Health
17. Trauma Informed Care
18. Wellness, Prevention, and Advocacy

Nancy Carson, PhD, OTR/L, FNAP, FAOTA, Associate Professor, Division of Occupational Therapy, Medical University of South Carolina, Charleston, South Carolina