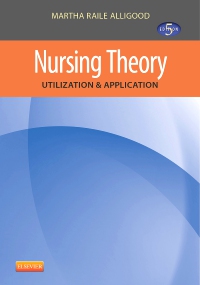 Nursing Theory
, 5th Edition
Paperback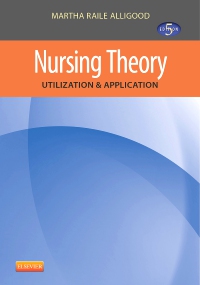 In Stock
This item has low stock levels and may be back-ordered. We'll let you know if it is back-ordered, and you will not be charged until the item ships.
With a consistent focus on application throughout, Nursing Theory: Utilization & Application, 5th Edition covers the development of nursing theory; the application of different nursing theories, models and philosophies; and the expansion of these practices with a look toward the future. This text provides the opportunity for students who have learned the background of nursing theory using the companion title, Nursing Theorists and Their Work, to apply what they have learned to actual nursing practice through various patient scenarios.
Real-life case history examples included in application chapters promotes evidence-based practice and further demonstrates how a theory is used in practical situations.
Consistent case history featuring the patient Debbie in every chapter and the nursing plan that follows help you apply philosophies, theories and models presented in the text.
Critical thinking exercises provide a more application-based approach rather than just contemplation of theories presented.
Chapters written by contributors who utilize the work offer a unique approach to using theory in practice.
Nursing metaparadigm discussion illustrates the four center concepts with which the discipline is concerned to help you see the scope of concern for the profession.
Logical organization presents content in three distinct parts.
Glossary offers quick access to key terms throughout the text.

NEW! Nursing Care sections demonstrate how theories apply to certain situations and particular types of nurses.
NEW! QSEN competencies throughout the book relate nursing theories to today's important focus on patient safety and quality improvement.
NEW! Nursing theory timeline helps you place different nursing theories and theorists in history, illustrating the progression of the content.
NEW! Fresh design helps you visually identify the text's relationship with its Nursing Theorists companion.

PART I: CONCEPTUALIZATION

The Nature of Knowledge Needed for Nursing Practice
Nursing Models: Normal Science for Nursing Practice
Philosophies, Models, and Theories: Critical Thinking Structures
Philosophies, Models, and Theories: Moral Obligations

PART II: APPLICATION

Section 1: Nursing Philosophies

Nightingale's Philosophy in Nursing Practice
Watson's Philosophy in Nursing Practice
Benner's Philosophy in Nursing Practice

Section 2: Nursing Models

Johnson's Behavioral System Model in Nursing Practice
King's Conceptual System and Theory of Goal Attainment in Nursing Practice
Levine's Conservation Model in Nursing Practice
Neuman's Systems Model in Nursing Practice
Orem's Self-Care Deficit Theory in Nursing Practice
Rogers' Science of Unitary Human Beings in Nursing Practice
Roy's Adaptation Model in Nursing Practice

Section 3: Nursing Theories

Orlando's Nursing Process Theory in Nursing Practice
Modeling and Role-Modeling Theory in Nursing Practice
Mercer's Becoming a Mother Theory in Nursing Practice
Leininger's Theory of Culture Care Diversity and Universality in Nursing Practice
Parse's Theory of Human Becoming in Nursing Practice
Newman's Theory of Health as Expanding Consciousness in Nursing Practice

PART III: EXPANSION

Areas for Further Development of Theory-Based Nursing Practice
Nursing Philosophies, Models, and Theories: A Focus on the Future

Glossary

Index

Martha Raile Alligood, PhD, RN, ANEF, Professor and Director, PhD program, College of Nursing, East Carolina University, Greenville, NC, USA
In Stock
This item has low stock levels and may be back-ordered. We'll let you know if it is back-ordered, and you will not be charged until the item ships.