Veterinary Diagnostic Imaging - Elsevier eBook on VitalSource (Retail Access Card)
,
Elsevier eBook on VitalSource - Access Card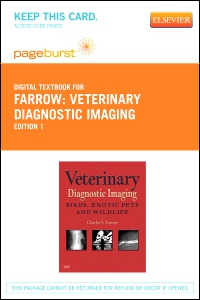 Or $0.00 with a valid access code
Free Shipping!
This item has low stock levels and may be back-ordered. We'll let you know if it is back-ordered, and you will not be charged until the item ships.
With a focus on birds, reptiles, and mammals, Veterinary Diagnostic Imaging: Avian and Exotic Pets discusses veterinary diagnostic imaging and new technologies for multiple modalities to help you accurately diagnose and pinpoint common injuries and disease. Divided into three sections — Birds, Mammals, and Reptiles — each section includes valuable information on positioning for specific structures, imaging findings, and more for each species with a wealth of photographs to provide real-life examples.
Atlas-sized radiographs allow you to easily visualize the injury or indication of disease.
Comparison radiographs display a normal image with an abnormal image to highlight differences and help you identify abnormalities in practice.
"Telescopic" images provide close-up views of larger radiographs to help you identify salient points visible in the radiograph.
Content tailored to each species highlights the common injuries and diseases for each avian and exotic species.
Discussions of multiple modalities including ultrasound, MRI, and CT provide all the information you need for diagnostic imaging in one resource.

Section I: Birds

1. Avian Radiography and Radiographic Diagnosis

2. Wild Birds

3. Cage Birds

4. The Wing: Particulars of Flight

5. The Wing: Normal Gross Anatomy

6. The Wing: Radiography and Normal Radiographic Anatomy

7. The Wing: Normal Computed Tomographic Anatomy

8. The Wing: An Overview of Wing Injuries

9. The Wing: Fracture Types and Tendencies

10. The Wing: Fracture Healing and Non-Healing

11. The Wing: Soft Tissue Injuries

12. The Wing: Dislocation, Fracture-Dislocation, Traumatic Amputation and Avulsion

13. The Wing: Gunshots

14. The Wing: Infections

15. The Wing: Post-Traumatic Osteoarthritis

16. Spine, Pelvis and Hips

17. The Leg

18. The Head

19. The Throat and Neck

20. The Torso

Section II: The Mammals

21. Guinea Pigs

22. Hamsters

23. Rats

24. Chinchillas, Dagus and Gophers

25. Hedgehogs

26. Rabbits

27. Ferrets

28. Skunks, Squirrels, Raccoons and Armadillos

29. Monkeys and Other Non-Human Primates

30. Acreage Pets: Alpacas, Llamas, Miniature Horses, Miniature Goats and Pot-Bellied Pigs

31. Performance and Demonstration Pets: Bear and Bison

Section III: The Reptiles

32. Snakes

33. Lizards

34. Turtles

35. Caiman

Charles S. Farrow, DVM, Professor of Veterinary Medical Imaging, Western College of Veterinary Medicine, University of Saskatchewan, Saskatoon, Saskkatchewan, Canada