Prosthodontic Treatment for Edentulous Patients - Elsevier eBook on VitalSource (Retail Access Card), 13th Edition
Elsevier eBook on VitalSource - Access Card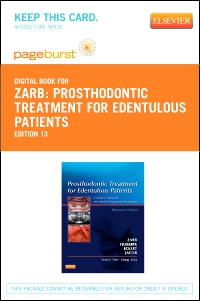 Or $0.00 with a valid access code
Free Shipping!
This item has low stock levels and may be back-ordered. We'll let you know if it is back-ordered, and you will not be charged until the item ships.
Covering the functional and esthetic needs of edentulous patients, Prosthodontic Treatment for Edentulous Patients: Complete Dentures and Implant-Supported Prostheses, 13th Edition helps you provide complete dentures, with and without dental implant support. It addresses both the behavioral and clinical aspects of diagnosis and treatment and covers treatment modalities including osseointegration, overdentures, implant-supported fixed prosthesis, and the current and future directions of implant prosthodontics. New to this edition are full-color photographs and coverage of immediately loaded complete dental prostheses. From lead editor and respected educator George Zarb, Prosthodontic Treatment for Edentulous Patients provides an atlas of clinical procedures and emphasizes the importance of evidence-based treatment.
This text addresses the different types of edentulous patients, including thorough discussions of both short- and long-term patients.
Detailed coverage of the elderly and/or edentulous patients provides the reader with the specialized knowledge needed to treat these groups.
Over 800 images accompanying procedures, concepts, and techniques enhance understanding and comprehension of each topic presented.
Material on achieving a satisfactory esthetic effect emphasizes the importance of satisfying the patient.
Topics on related and supplemental procedures feature information on overdentures, immediate dentures, and single complete dentures.
This title has been revised more than any other book on the subject, in order to maintain its long-standing value and recognition as an authoritative source on prosthodontics for the edentulous.
The condensed format provides relevant information that is conveniently sized and reasonably priced.
Clear and concise language makes even the most difficult subjects and procedures easy to follow.
The bibliography lists at the end of each chapter direct readers to additional literature on the topics.
The diverse and distinguished editorial/contributor pool lends credibility and experience to each topic.

The content has been reorganized to make the material more concise and easier to read.
Brand new chapters on temporomandibular disorders, materials prescribed, and the current and future direction in implant prosthodontics keep the reader aware of developments in the field.
As reflected in the changed title, this edition has been expanded and updated to emphasize the growing importance of implant-supported prostheses.
The reorganization and consolidation of chapters into four major sections enhances readability.
Eight new contributors and 4 new editors offer a fresh perspective.

Part 1: On Being Edentulous
1. The Edentulous Predicament
2. Biomechanics of the Edentulous State
3. The Effects of Aging on the Edentulous State
4. Sequelae of Wearing Complete Dentures
5. Temporomandibular Disorders in Edentulous Patients
6. Nutrition Care for the Denture-Wearing Patient

Part 2: Diagnoses and Treatment Planning for Edentulous or Potentially Edentulous Patients
7. Diagnosis and Treatment Planning for Edentulous or Potentially Edentulous Patients
8. On Pre-Prosthetic Surgery: Improving the Patients' Denture Bearing Areas and Ridge Relations
9. Immediate Dentures
10. Overdentures
11. Building Rapport: The Art of Communication in the Management of the Edentulous Predicament
12. Materials Prescribed in the Management of Edentulous Patients

Part 3: Rehabilitation of the Edentulous Patient: Fabrication of Complete Dentures
13. Developing an Analogue/Substitute for the Maxillary Denture-Bearing Area
14. Developing an Analogue/Substitute for the Mandibular Denture-Bearing Area
15. Identification of Shape and Location of Arch Form: The Recording Base and Occlusion Rim
16. Biological and Clinical Considerations in Making Jaw Relation Records and Relating the Patient to the Articulator
17. Selecting and Arranging Prosthetic Teeth and Occlusion for the Edentulous Patient
18. The Try-In Appointment: Sections I, II, and III
19. Speech Considerations with Complete Dentures
20. Waxing and Processing the Dentures, Their Insertion and Follow-Up
21. Single Dentures
22. The Retention of Complete Dentures
23. Maxillofacial Prosthodontics for the Edentulous Patient
24. Prolonging the Useful Life of Complete Dentures: The Relining Procedure

Part 4: Implant Prosthodontics
25. Implant-Supported Prostheses for Edentulous Patients
26. The Science of Osseointegration
27. Clinical Protocol for Treatment with Implant-Supported Overdentures
28. Clinical Protocol: Implant-Supported Prostheses
29. Managing Problems and Complications
30. Current and Future Directions in Implant Prosthodontics

George A. Zarb, BchD(Malta), DDS, MS(Michigan), FRCD(Canada), Rhonda Jacob, BS, MS, DDS, Board Certified Prosthodontist, Clear Choice Dental Implant Centers, The Woodlands, Texas, John Hobrink and Steven Eckert, DDS, MS, Board Certified Prosthodontist, Director of Research, Clear Choice Dental Implant Centers, Minneapolis; Professor Emeritus,
Mayo Clinic College of Medicine, Rochester; Adjunct Professor, University of Minnesota School of Dentistry, Minneapolis, Minnesota.