Massage Online (MO) for Mosby's Pathology for Massage Therapists (Access Code), 3rd Edition
Online Course - Access Card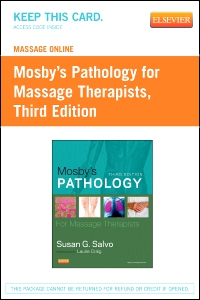 Free Shipping!
In Stock
This item has low stock levels and may be back-ordered. We'll let you know if it is back-ordered, and you will not be charged until the item ships.
Reinforce your understanding of pathology with hands-on exercises! Based on Mosby's Pathology for Massage Therapists, 2nd Edition, this online course supplements the textbook with fun, engaging, interactive modules. It brings science concepts to life with more than 200 exercises, over 1,000 high-quality images, and dynamic videos and animations. Modules correspond to the chapters in the text, and include reading assignments. To make it easier to remember contraindications for massage therapy, colorful traffic light icons accompany each pathology. Together with the textbook, Massage Online offers the best possible preparation in pathology for massage therapy.
Duration for access to this product, which may be at the discretion of your institution, is up to 36 months. Elsevier reserves the right to restrict or remove access due to changes in product portfolio or other market conditions.
A contemporary design includes easy, intuitive navigation and enhances readability.
A traffic light icon appears next to each pathology, indicating whether it is safe to proceed with massage (green), there are cautions (yellow), or the massage is contraindicated (red).
Objective-based learning helps you make the most of your time with objectives for study at the beginning of each module and an exam at the end, with rationales for each answer.
Interactive activities reinforce your understanding with about 10 activities in each module including labeling, drag-and-drop, matching exercises, bin-drops (putting the correct descriptor in the proper columns), and multiple-choice and quiz show formats for reviews.
Interactive features include pop-ups with content on:

Points of interest
Historical marker
Clinical tip
Spotlight on research
Rest area asking you to take a break or offering a tip for meditation or relaxation

Animations depict pathology concepts that are difficult to represent photographically, like cell division.
High-quality images illustrate anatomy and key concepts, and may be enlarged in a pop-up view.
Case studies offer realistic, multi-faceted, client scenarios so you can synthesize and apply what you have learned.
Picture galleries show the components of a disease/condition, to help you select, modify, or avoid massage procedures. For example, the osteoporosis picture gallery includes drawings of posture, a bone density test being performed, photos and radiographs of vertebrae with tissue loss, normal bones in comparison to osteoporotic bones, and photos of the progression of the disease through the life cycle.
Understanding Medical Technology screens explain today's technology, such as the pacemaker and its implications for performing massage.
Did You Catch That? ensures that you fully comprehend all key information.
User-friendly design and navigation make it easy to access the module outline, glossary, and forms, and also gauge your progress through the module.
Automatic scoring for module exams includes automatic reporting to the instructor's grade book.
Audio glossary allows you to roll over terms to see pop-ups with definitions and pronunciations.

Module 1 Disease Awareness and Infection Control

Module 2 Treatment Planning

Module 3 Medications

Module 4 Dermatologic Pathologies

Module 5 Musculoskeletal Pathologies

Module 6 Neurologic Pathologies

Module 7 Endocrine Pathologies

Module 8 Cardiovascular Pathologies

Module 9 Lymphatic and Immune Pathologies

Module 10 Respiratory Pathologies

Module 11 Gastrointestinal Pathologies

Module 12 Urinary Pathologies

Module 13 Reproductive Pathologies, Conditions, and Sexually Transmitted Infections

Module 14 Cancer

Module 15 Mental Disorders

Susan G. Salvo, EdD, LMT, BCTMB, Director of Education and Instructor at Louisiana Institute of Massage Therapy