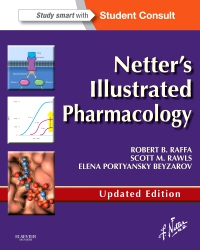 Publication Date:
11-13-2013
Evolve Resources for Netter's Illustrated Pharmacology Updated Edition, 1st Edition
Resources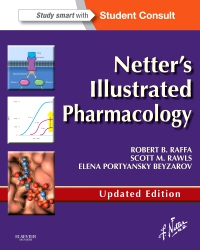 Publication Date:
11-13-2013
Free with purchase of new corresponding textbook
This updated edition of Netter's Illustrated Pharmacology allows you to take a distinct visual approach to understanding both the basic science and clinical applications of pharmacology. Designed to be compatible and used in conjunction with other pharmacology resources, this medical reference book offers a vivid, uniquely effective visual presentation of the pharmacodynamic relationship between drugs and the human body. And with the new addition of Student Consult online access, Netter's Illustrated Pharmacology is even more convenient than ever before!
Robert B. Raffa, PhD, Temple University School of Pharmacy Philadelphia, Pennsylvania, Scott M. Rawls, PhD, Temple University School of Pharmacy Philadelphia, Pennsylvania and Elena Portyansky Beyzarov, PharmD, Director of Scientific Affairs Pharmacy Times Plainsboro, NJ