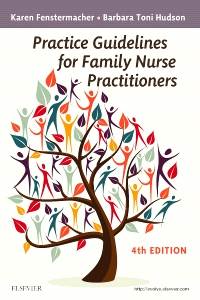 Publication Date:
06-04-2015
Practice Guidelines for Family Nurse Practitioners, 4th Edition
Spiral Bound
Publication Date:
06-04-2015
Prepare students for FNP practice with the latest evidence-based guidelines! Practice Guidelines for Family Nurse Practitioners, 4th Edition provides essential, evidence-based information on current assessment and management protocols for primary care patients of all ages. Key details are easy to find, with the book's concise, outline-style guidelines and abundant summary tables and charts. In addition to coverage of the primary care conditions commonly seen in the outpatient setting, this edition includes the latest information on topics such as pain management, bariatric surgery follow-up, restless legs syndrome, and new medications for diabetes and cardiovascular disorders.
Essential, evidence-based guidelines provide the latest guidance for management of disorders commonly seen by FNPs in primary care settings, including information on which problems must be referred to a physician and which constitute an emergency.
Quick-reference tables and charts include pediatric conditions charts, comparative charts for similar disorders, and health maintenance guidelines charts.
Coverage of special populations assessment provides quick access to information on adult, pediatric, and geriatric assessment.
Compact size and spiral binding make this guide easy to carry and easy to use in the clinical setting.
Full-color insert provides an illustrated, quick reference to common skin disorders.
Concise outline format makes it easy to locate essential information quickly.

NEW! Treatment guidelines include the latest nationally recognized evidence-based treatment guidelines, including those for dementia, asthma, and diabetes.
UPDATED content throughout includes bariatric surgery follow-up after release from surgical care, assessment of pelvic masses, restless legs syndrome, the advanced eye examination including advanced staining techniques, and new medications for diabetes and cardiovascular disorders.
NEW Pain chapter provides guidelines on pain management and caring for patients with pain.
NEW Laboratory and Diagnostic Pearls chapter offers useful laboratory and diagnostic tips that the authors have accumulated over years of clinical practice.
NEW! Coverage of respiratory and ENT disorders is presented into two separate chapters, reflecting how these problems are actually handled in clinical practice.
NEW user-friendly design includes an improved outline format, easier-to-read tables, and color highlighting for essential information.

Unit I: History and Physical Examination
1. Adult Assessment
2. Pediatric Assessment
3. Geriatric Assessment
4. Laboratory and Diagnostic Pearls NEW!
Unit II: Common Conditions
5. Skin Conditions
6. Respiratory Conditions
7. Eye, Ear, Nose, and Throat Conditions
8. Cardiovascular Disorders
9. Peripheral Vascular and Hematologic Disorders
10. Abdominal Disorders
11. Gynecologic Disorders
12. Common Urinary Tract Disorders
13. Neurological Disorders
14. Musculoskeletal Conditions
15. Pain NEW!
15. Endocrine Disorders
16. Pediatric Disorders
17. Psychiatric Disorders
Appendices
A. Food Sources for Selected Nutrients
B. Biological Disease Agents

Karen Fenstermacher, MS, RN, FNP, Family Nurse Practitioner, Mercy Primary Care, Carthage, Missouri and Barbara Toni Hudson, MSN, RN, FNP-BC, Family Nurse Practitioner, Ash Grove Family Care Clinic, Ash Grove, Missouri
In Stock
Most review copies are eBooks – how fast!