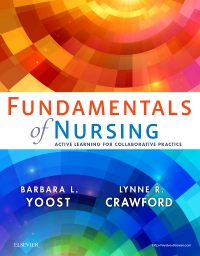 Fundamentals of Nursing - Elsevier eBook on VitalSource
,
Elsevier eBook on VitalSource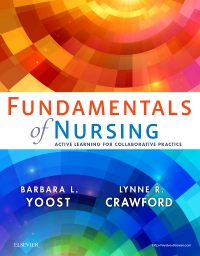 There's a new text in town for your nursing fundamentals course. One that centers on simple language, active learning, and a fresh new way to help your students understand, apply, and retain important nursing information and concepts. Introducing the brand new Fundamentals of Nursing text from Barbara Yoost and Lynne Crawford. Written in a warm and conversational style, this innovative text starts by guiding students towards a basic understanding of the nursing profession and then logically progresses through the nursing process and into safe and systematic methods of applying care. Each chapter features realistic case studies and critical thinking exercises woven throughout the content to help students continually apply what they learn to actual patient care. Conceptual care maps further students' ability to make clinical judgments and synthesize knowledge as they develop plans of care after analyzing and clustering related patient assessment information. All of this paired with a wealth of student-friendly learning features, clinically-focused content, and endless instructor support materials offer up a fundamentally different — and quite effective — way for your students to master the fundamentals of nursing.
UNIQUE! Active learning approach centers on case studies and critical thinking exercises that are woven throughout each chapter to ensure readers are able to apply chapter content to broader nursing concepts and realistic patient scenarios.
UNIQUE! Simple to complex progression of information starts by guiding readers towards a basic understanding of the nursing profession and then logically progressing through the nursing process and into the safe and systematic methods of applying care.
UNIQUE! Warm, conversational style devoid of repetitive discussions and unnecessary information slows down the pace of information to give readers time to critically think and master all fundamental concepts and skills.
UNIQUE! Conceptual care maps require readers to develop a plan of care after analyzing and clustering related patient assessment data. This unique learning tool assists readers in recognizing the importance of each type of assessment data and furthers your ability to make clinical judgments and synthesize knowledge about the whole patient.
Learning objectives carried throughout the chapter features the objective being showcased at the start of the chapter, tied to headings throughout the chapter, and once again reinforced at the close of the chapter.
Nursing Skills sections provide information on the purpose, procedures, evidence-based practice, special circumstances, and more for a variety of important nursing skills — all supported by rationales, photos, and illustrations.
Nursing Care Guidelines highlight information (including background, procedural concerns, documentation concerns, and evidence-based practice) and resources to reduce risk and ensure safety for the patient and nurse.
Diverse mix of clinically focused boxes are incorporated throughout each chapter.

Collaboration and Delegation boxes stress the importance of effective and accurate communication between the healthcare team about a patient's condition and treatment, as well as the importance of assigning tasks appropriately.
Ethical, Legal, and Professional Practice boxes address ethical and legal dilemmas commonly faced in nursing to prepare readers to act in a professional and nonjudgmental manner while protecting patient rights.
Patient Education and Health Literacy boxes stress the importance of patient education and how to deliver information in an understandable manner based on the patient's level of health literacy.
Health Assessment Questions boxes illustrate how to properly ask and use assessment questions while interviewing patients.
Diversity Considerations boxes prepare readers to care for and communicate with patients of diverse ages, gender, cultural, ethnic, and religious backgrounds as well as various disability and morphological characteristics.
Evidence-Based Practice and Informatics boxes provide current research and resources that, combined with clinical expertise, will contribute to improved patient care outcomes.
Home Care Consideration boxes highlight issues that pertain specifically to nursing practice in the non-acute care setting.
Safe Practice Alert! boxes underscore significant patient safety concerns while providing information to insure both patient and nurse safety.
QSEN Focus! boxes illustrate application of the six Quality and Safety Education for Nurses (QSEN) competencies for pre-licensure nursing students: patient-centered care, teamwork and collaboration, evidence-based practice, quality improvement, safety, and informatics.

Five-step nursing process framework is integrated throughout the text and in the clinical skills chapters.
Care planning table in each clinical chapter highlights the first nursing diagnosis discussed in the chapter and connects it to the Nursing Outcomes Classification (NOC) and the Nursing Interventions Classification (NIC).

Unit I: Nursing Basics 1. Nursing, Theory, and Professional Practice 2. Values, Beliefs, and Caring 3. Communication 4. Critical Thinking in Nursing

Unit II: Nursing Process 5. Introduction to the Nursing Process 6. Assessment 7. Nursing Diagnosis 8. Planning 9. Implementation and Evaluation

Unit III: Nursing Practice 10. Documentation, Electronic Health Records, and Reporting 11. Ethical and Legal Considerations 12. Leadership and Management 13. Evidence-Based Practice and Nursing Research 14. Health Literacy and Patient Education 15. Nursing Informatics 16. Health and Wellness

Unit IV: Nursing Assessment 17. Human Development: Conception through Adolescence 18. Human Development: Young Adult through Older Adult 19. Vital Signs 20. Health History and Physical Assessment 21. Ethnicity and Cultural Assessment 22. Spiritual Health 23. Public Health, Community-based, and Home Health Care 24. Human Sexuality

Unit V: Nursing Principles 25. Safety 26. Asepsis and Infection Control 27. Hygiene and Personal Care 28. Activity, Immobility, and Safe Movement 29. Skin Integrity and Wound Care 30. Nutrition 31. Cognitive and Sensory Alterations 32. Stress and Coping 33. Sleep

Unit VI: Nursing Care 34. Diagnostic Testing 35. Medication Administration 36. Pain Management 37. Perioperative Nursing Care 38. Oxygenation and Tissue Perfusion 39. Fluid, Electrolytes, and Acid-Base Balance 40. Bowel Elimination 41. Urinary Elimination 42. Death and Loss

Glossary Appendix A: Abbreviations, Roots, Prefixes and Suffixes Appendix B: NANDA-I Diagnostic Labels Appendix C: NCLEX-Style Question Study Tips

Barbara L Yoost, MSN, RN, CNE, ANEF and Lynne R Crawford, MSN, MBA, RN, CNE