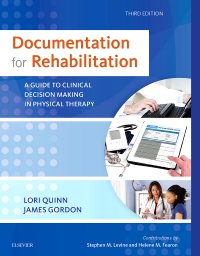 Publication Date:
12-11-2015
Documentation for Rehabilitation, 3rd Edition
Paperback
Publication Date:
12-11-2015
Most review copies are eBooks – how fast!
This item has low stock levels and may be back-ordered. We'll let you know if it is back-ordered, and you will not be charged until the item ships.
Better patient management starts with better documentation! Documentation for Rehabilitation: A Guide to Clinical Decision Making in Physical Therapy, 3rd Edition shows students how to accurately document treatment progress and patient outcomes. Designed for physical therapy and physical therapy assistant students as well as practicing clinicians, documentation guidelines are easily adaptable to different practice settings and patient populations. Realistic examples and practice exercises reinforce concepts and challenge students and therapists to apply what they've learned, improving their skills in both documentation and clinical reasoning.
A practical framework shows how to organize and structure PT records, making it easier to document functional outcomes in many practice settings, and is based on the International Classification for Functioning, Disability, and Health (ICF) model — the one adopted by the APTA.
Coverage of practice settings includes documentation examples in acute care, rehabilitation, outpatient, home care, and nursing homes, as well as a separate chapter on documentation in pediatric settings.
Guidelines to systematic documentation describe how to identify, record, measure, and evaluate treatment and therapies — especially important when insurance companies require evidence of functional progress in order to provide reimbursement.
Workbook/textbook format uses examples and exercises in each chapter to reinforce your understanding of concepts.

NEW Standardized Outcome Measures chapter leads to better care and patient management by helping you select the right outcome measures for use in evaluations, re-evaluations, and discharge summaries.
UPDATED content is based on data from current research, federal policies and APTA guidelines, including incorporation of new terminology from the Guide to Physical Therapist 3.0 and ICD-10 coding.
EXPANDED number of case examples covers an even broader range of clinical practice areas.

I: THEORETICAL FOUNDATIONS
1. Disablement Models, ICF Framework and Clinical Decision Making
2. Essentials of Documentation
3. Legal Aspects of Documentation
4. Standardized Outcome Measures NEW!
5. Payment Policy and Coding
6 Electronic Medical Records
II: COMPONENTS OF PHYSICAL THERAPY DOCUMENTATION
7. Clinical Decision Making and the Initial Evaluation Format
8. Documenting Reason for Referral: Health Condition and Participation
9. Documenting Activities
10. Documenting Impairments
11. Document the Assessment: Summary and Diagnosis
12. Developing and Documenting Effective Goals
13. Documenting the Plan of Care
14. Documenting Session Notes and Progress Notes Using a Modified SOAP Note Format
15. Special Formats: Documenting Screenings, Discharge Summaries, Letters and Patient Education Materials
16. Documentation in Pediatrics
References
Appendix A: Guidelines: Physical Therapy Documentation of Patient/Client Management
Appendix B: Rehabilitation Abbreviations
Appendix C: Answers to Exercises
Appendix D: Documentation Review Sample Checklist
Appendix E: Strength and Range of Motion Forms

Lori Quinn, EdD, PT, Associate Professor of Movement Science and Kinesiology Director, Neurorehabilitation Research Lab Teachers College, Columbia University and James Gordon, EdD, PT, FAPTA, Professor and Associate Dean Division of Biokinesiology and Physical Therapy at the Herman Ostrow School of Dentistry University of Southern California
Most review copies are eBooks – how fast!
This item has low stock levels and may be back-ordered. We'll let you know if it is back-ordered, and you will not be charged until the item ships.