Netter's Atlas of Neuroscience Elsevier eBook on VitalSource, 3rd Edition
Elsevier eBook on VitalSource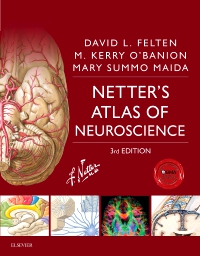 Or $0.00 with a valid access code
Ideal for students of neuroscience and neuroanatomy, the new edition of Netter's Atlas of Neuroscience combines the didactic well-loved illustrations of Dr. Frank Netter with succinct text and clinical points, providing a highly visual, clinically oriented guide to the most important topics in this subject. The logically organized content presents neuroscience from three perspectives: an overview of the nervous system, regional neuroscience, and systemic neuroscience, enabling you to review complex neural structures and systems from different contexts.
You may also be interested in:
A companion set of flash cards, Netter's Neuroscience Flash Cards, 3rd Edition, to which the textbook is cross-referenced.
Coverage of both regional and systemic neurosciences allows you to learn structure and function in different and important contexts.
Combines the precision and beauty of Netter and Netter-style illustrations to highlight key neuroanatomical concepts and clinical correlations.
Reflects the current understanding of the neural components and supportive tissue, regions, and systems of the brain, spinal cord, and periphery.
Uniquely informative drawings provide a quick and memorable overview of anatomy, function, and clinical relevance.
Succinct and useful format utilizes tables and short text to offer easily accessible "at-a-glance" information.
Provides an overview of the basic features of the spinal cord, brain, and peripheral nervous system, the vasculature, meninges and cerebrospinal fluid, and basic development.
Integrates the peripheral and central aspects of the nervous system.
Bridges neuroanatomy and neurology through the use of correlative radiographs.
Highlights cross-sectional brain stem anatomy and side-by-side comparisons of horizontal sections, CTs and MRIs.

Expanded coverage of cellular and molecular neuroscience provides essential guidance on signaling, transcription factors, stem cells, evoked potentials, neuronal and glial function, and a number of molecular breakthroughs for a better understanding of normal and pathologic conditions of the nervous system.
Micrographs, radiologic imaging, and stained cross sections supplement illustrations for a comprehensive visual understanding.
Increased clinical points -- from sleep disorders and inflammation in the CNS to the biology of seizures and the mechanisms of Alzheimer's -- offer concise insights that bridge basic neuroscience and clinical application.

Section 1 Overview of the Nervous System

Neurons and Their Properties

Anatomical and Molecular Properties

Electrical Properties

Neurotransmitter and Signaling Properties

Skull and Meninges

Brain

Brain Stem and Cerebellum

Spinal Cord

Ventricles and the Cerebrospinal Fluid

Vasculature

Arterial System

Developmental Neuroscience

Section II Regional Neuroscience

Peripheral Nervous System

Introduction and Basic Organization

Somatic Nervous System

Autonomic Nervous System

Spinal Cord

Brain Stem and Cerebellum

Brain Stem Cross-Sectional Anatomy

Cranial Nerves and Cranial Nerve Nuclei

Reticular Formation

Cerebellum

Diencephalon

Telencephalon

Section III Systemic Neuroscience

Sensory Systems

Somatosensory Systems

Trigeminal Sensory System

Sensory System for Taste

Auditory System

Vestibular System

Visual System

Motor Systems

Lower Motor Neurons

Upper Motor Neurons

Cerebellum

Basal Ganglia

Autonomic-Hypothalamic-Limbic Systems

Autonomic Nervous System

Hypothalamus and Pituitary

Limbic System

Olfactory System

David L. Felten, MD, PhD, Associate Dean of Clinical Sciences, University of Medicine and Health, New York, New York, Michael K. O'Banion, M.D., Ph.D., Professor and Interim Chair, Department of Neurobiology and Anatomy, Director of the Medical Scientist Training Program, University of Rochester School of Medicine, Rochester, New York and Mary E Maida, Ph.D., Adjunct Professor of Neurobiology & Anatomy, University of Rochester School of Medicine, Rochester, New York