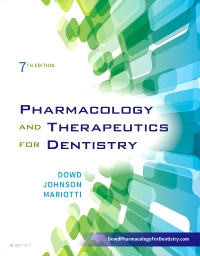 Publication Date:
09-27-2016
Pharmacology and Therapeutics for Dentistry, 7th Edition
Hardcover
Publication Date:
09-27-2016
Provide dental students with a complete understanding of drugs affecting patient care! Pharmacology and Therapeutics for Dentistry, 7th Edition describes how to evaluate a patient's health and optimize dental treatment by factoring in the drugs they take. It explores the basic principles of pharmacology, the ways that drugs affect the body, and the potential for adverse drug interactions. With chapters written by a team of expert contributors, this is the only book written by dental pharmacologists for the dental market. Whether discussing the drugs a patient is already taking or the drugs prescribed by the dentist, this book helps dentists and dental hygienists learn to reduce risk and provide effective dental care.
Concise, comprehensive coverage helps you provide safe and effective dental care, exploring the fundamentals of pharmacology and clearly explaining actions of specific drug groups on systems in the human body in addition to covering special topics such as pain control, fear and anxiety, and oral complications of cancer therapy.
An emphasis on the dental applications of pharmacology shows how to evaluate a patient's health and optimize dental treatment by factoring in any medications the patient may be taking.
Practical appendices provide easy access to essential information, summarizing topics such as drug interactions in clinical dentistry, antiseptics and disinfectants, herbs, controlled substances, protein biopharmaceuticals, drugs used to treat glaucoma, and abbreviations.
Clinical Rationale for and Significance of Prescription Writing chapter and two appendices on drug prescribing cover both the medications that a patient may already be taking and drugs that a dentist may prescribe for treatment.
Nearly 50 expert contributors represent a diverse, authoritative panel of authors from many of the major dental schools.

NEW! Reorganized content is more concise, more relevant, and more visual, with a stronger focus on what you need to know for clinical practice.
NEW! Case studies at the beginning of chapters and case discussions at the end help you connect pharmacologic concepts and principles with clinical practice.
NEW summary tables and boxes provide quick reference to vital information, and include all-new tables on drug indications and mechanisms.
NEW! Full-color design and illustrations are added to this edition, enhancing realism and visual learning.
NEW companion website provides references linked to PubMed.
NEW! Bullet points list key information at the beginning of each chapter, highlighting need-to-know concepts.

Part 1: Principles of Pharmacology
1. Pharmacodynamics: Mechanisms of Drug Action
2. Pharmacokinetics: The Absorption, Distribution, and Fate of Drugs
3. Pharmacotherapeutics: The Clinical Use of Drugs
4. Pharmacogenetics: Pharmacogenomics
Part 2: Pharmacology of Specific Drug Groups
5. Introduction to Autonomic Nervous System Drugs
6. Cholinergic Agonists and Muscarinic Receptor Antagonists
7. Drugs Affecting Nicotinic Receptors
8. Adrenergic Agonists
9. Adrenergic Antagonists
10. Psychopharmacology: Antipsychotic and Antidepressant Drugs
11. Sedative-Hypnotics, Antianxiety Drugs and Centrally Acting Muscle Relaxants
12. Anticonvulsants
13. Antiparkinson Drugs
14. Local Anesthetics
15. General Anesthesia
16. Opioid Analgesics and Antagonists
17. Non-Opioid Analgesics; Nonsteroidal Antiinflammatory Drugs; Antirheumatic and Antigout Drugs
18. Histamine and Histamine Antagonists
19. Antiarrhythmic Drugs
20. Drugs Used in Heart Failure
21. Antianginal Drugs
22. Diuretic Drugs
23. Antihypertensive Drugs
24. Lipid-Lowering Drugs
25. Antianemic and Hematopoietic Stimulating Drugs
26. Procoagulant, Anticoagulant, and Thrombolytic Drugs
27. Drugs Acting on the Respiratory System
28. Drugs Acting on the Gastrointestinal Tract
29. Pituitary, Thyroid and Parathyroid Pharmacology
30. Adrenal Corticosteroids
31. Insulin, Oral Hypoglycemics, and Glucagon
32. Steroid Hormones of Reproduction and Sexual Development
33. Antibiotic Therapy
34. Antifungal and Antiviral Agents
35. Immunotherapy
36. Antineoplastic Drugs
Part 3: Special Subjects in Pharmacology and Therapeutics
37. Medications for Management of Chronic, Non-Odontogenic Pain
38. Management of Fear and Anxiety
39. Drugs of Abuse
40. Toxicology
41. Drugs for Medical Emergencies
42. Clinical Rationale for and Significance of Prescription Writing
Appendices
Appendix 1: Protein Biopharmaceuticals
Appendix 2: The Use of Herbs and Herbal Dietary Supplements in Dentistry
Appendix 3: Antiseptics and Disinfectants
Appendix 4: Drug Interactions in Clinical Dentistry
Appendix 5: Drugs Used to Treat Glaucoma
Appendix 6: Prescription Writing
Appendix 7: Controlled Substances and Drug Schedules
Appendix 8: Regulations and Drug Prescribing
Appendix 9: Glossary of Abbreviations

Bart Johnson, DDS, MS, Director, General Practice Residency Program, Swedish Medical Center; Private Practice, Seattle Special Dentistry, Seattle, WA, Angelo Mariotti, BS, DDS, PhD, Professor Emeritus, Department of Pharmacology and Neuroscience, Creighton University, School of Medicine and School of Dentistry, Omaha, Nebraska and Frank J. Dowd, DDS, PhD, Professor, Department of Pharmacology; Professor, Department of Oral Biology, School of Dentistry, Creighton University School of Medicine, Omaha, NE
In Stock
Most review copies are eBooks – how fast!