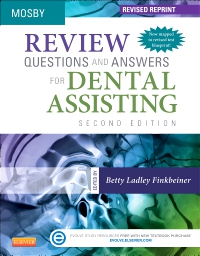 Publication Date:
12-11-2015
Review Questions and Answers for Dental Assisting - Elsevier eBook on VitalSource - Revised Reprint, 2nd Edition
Elsevier eBook on VitalSource
Publication Date:
12-11-2015
Help students become Certified Dental Assistants (CDAs) or pass their local and state exams with this Revised Reprint of our best-selling test-preparation resource. Now mapped to the 2015 CDA exam blueprint, this revised edition features more than five times the practice of the CDA exam with a total of 1,825 multiple-choice questions that cover all the standard topics and procedures specific to dental assisting. A companion website includes a database of exam questions and custom test generator with time-clock functionality, plus new questions that correspond to expanded functions in certain states to give students realistic practice for any certification exam.
Help students become Certified Dental Assistants (CDAs) or pass their local and state exams with this Revised Reprint of our best-selling test-preparation resource. Now mapped to the 2015 CDA exam blueprint, this revised edition features more than five times the practice of the CDA exam with a total of 1,825 multiple-choice questions that cover all the standard topics and procedures specific to dental assisting. A companion website includes a database of exam questions and custom test generator with time-clock functionality, plus new questions that correspond to expanded functions in certain states to give students realistic practice for any certification exam.

NEW! Fully revised to map to the 2015 CDA exam blueprint
NEW! Now with more than five times the practice of the CDA exam, nearly 850 new questions give you more opportunities master content and gain test-taking confidence.
NEW & UNIQUE! An additional 150 questions that correspond to existing and new expanded functions in certain states ensure that you are prepared for exam success in any state you wish to practice.
NEW & UNIQUE! Companion website includes a database of exam questions and a custom test generator to mimic the CDA exam, along with the expanded functions questions grouped by state and topic to give you real-world test-taking experience.

Mosby and Betty Ladley Finkbeiner, CDA-Emeritus, BS, MS, Emeritus Faculty,Washtenaw Community College,Ann Arbor, Michigan