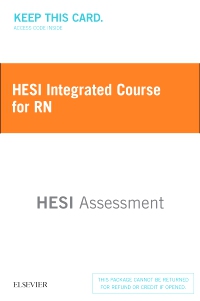 Publication Date:
04-27-2016
HESI Patient Reviews with RN Case Studies and Practice Test and EAQ NCLEX RN, 1st Edition
HESI Case Studies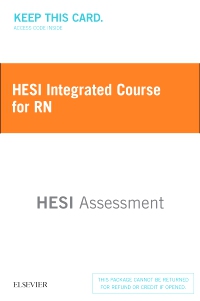 Publication Date:
04-27-2016
Any student who attempts to register for access will be reported to the school's faculty and administration.
Uniquely organized content matches the flow of your curriculum from admission to graduation.
The HESI RN Integrated Course is an exciting new package option that makes it easy to incorporate valid and reliable learner support components into your program.
Logical course organization mirrors your curriculum structure
Content is mapped by subject area for quick access
Student results from all components feed directly to your grade book
Formative assessments follow the natural student learning progression
Significant cost savings over buying products individually
WHAT'S INCLUDED
HESI RN Patient Reviews An ideal way to reinforce and assess students' retention of core content, these didactic, knowledge-based scenarios give students an important first look at providing safe and effective patient care.
HESI RN Case Studies Challenge students to use their knowledge and apply key concepts to realistic patient scenarios. By answering questions and viewing rationales, students learn to manage complex conditions and make sound clinical decisions.
HESI RN Practice Tests These pre-built, non-proctored tests assess students' knowledge and concepts learned, while also introducing them to standardized testing with NCLEX® exam-style practice questions.
Elsevier Adaptive Quizzing for the NCLEX-RN Examination This formative quizzing tool uniquely adapts to each student's knowledge level, reinforcing content and exposing them to additional NCLEX exam-style questions.
HESI

This product is available in the following formats: