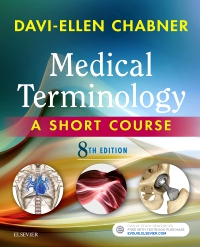 Publication Date:
10-16-2017
Medical Terminology Online with Elsevier Adaptive Learning for Medical Terminology: A Short Course, 8th Edition
Online Course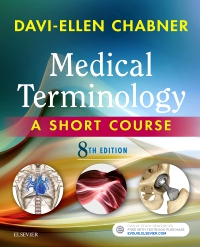 Publication Date:
10-16-2017
Any student who attempts to register for access will be reported to the school's faculty and administration.
Ensure true mastery of medical terminology with interactive lessons, engaging exercises, and adaptive learning rolled into one! Catering to today's broad spectrum of learners, this bestselling online learning supplement now integrates Elsevier Adaptive Learning technology into its wide range of interactive lessons and activities. With this new adaptive learning component added, you and your students can track individual performance and take advantage of how program adapts to deliver specific lessons and content refreshers precisely when its needed by the student. The online course is organized to follow Davi-Ellen Chabner's The Language of Medicine, 11th Edition text chapter by chapter.
Outcome-based learning ensures that users are meeting the course objectives and provides feedback to the student and the instructor about learning outcomes.
Wealth of interactive exercises includes word building, identification, spelling, pronunciation, matching, multiple ch3oice, true or false, fill-in-the-blank, labeling, and case studies.
Medical record activities and case studies with embedded questions require users to become familiar with a variety of entries in the medical record and demonstrate why knowledge of medical terminology is so important in the clinical setting.
Over 20 animations and slide shows with narration demonstrate and describe the physiologic and pathologic processes that are difficult to convey with static illustrations.
Quizzes at the end of each section and exams at the end of each module provide automatic scoring.
6,000-term English/Spanish glossary offers instant access to pronunciation and definition of terms.
300 anatomical, disease, and disorder illustrations reinforce learning.

NEW & UNIQUE! Elsevier Adaptive Learning enables users to master material at the lesson level.
NEW & UNIQUE! Audio reviews at the end of each lesson help users hear medical terminology in context so you can be confident you are pronouncing terms correctly.
NEW & UNIQUE! Listen and Choose activity assures users are understanding terminology in an audio context.
NEW! WCAG 2.0 accessible means ALL students can learn med term using this course.
NEW! Additional animations bring anatomy, physiology, pathology, and procedure terminology to life.
NEW! Updated content reflects advances in technology and changes in the healthcare delivery system.
NEW! Quality Matters certification affirms this online course has all the elements and functionality required by the country's leading online course certifier.
NEW & UNIQUE! Terminology videos visually demonstrate difficult terminology concepts.

1. Basic Word Structure
2. Organization of the Body
3. Suffixes
4. Prefixes
5. Medical Specialists and Case Reports
6. Body Systems

Davi-Ellen Chabner, BA, MAT

This product is available in the following formats:
Any student who attempts to register for access will be reported to the school's faculty and administration.