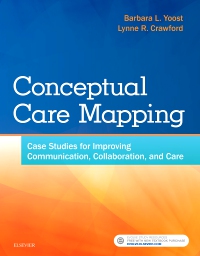 Publication Date:
01-26-2017
Conceptual Care Mapping, 1st Edition
Paperback
Publication Date:
01-26-2017
Help your students learn to quickly prioritize patient care! Conceptual Care Mapping: Case Studies for Improving Communication, Collaboration, and Care takes a 'two books in one' approach to guide nurses through the most important aspects of patient care and critical thinking. The first section explores the title's three C's of care, communication, and collaboration within the healthcare team. The second section includes case studies that progress from simple clinical conditions to the more complex. Conceptual Care Mapping provides the tools that nurses need to understand and implement effective patient care plans. With mapping practice both online and in the text, this unique text is the ideal resource for any first-year nursing student!
Unique! Conceptual Care Mapping guides your care — using templates and an online, interactive conceptual care map creator — from the author team who developed this new method of organizing care information.
Unique! 30 case studies focus on the patients you are most likely to see in clinical experience as a first-year student — and are organized from simple to complex, guiding you through prioritization and teaching you to think critically.
Unique! Elsevier's Conceptual Care Map (CCM) creator helps you create, update, manage, and submit care maps quickly and effectively.
Unique! Answers and completed care maps are provided for selected cases to reinforce what you've learned.
Unique! Improving Patient Care section not only provides an overview of care mapping, but also focuses on three key elements of patient care: care, communication (both with other healthcare professionals and with patients), and collaboration.
Unique! Interprofessional Education (IPE) and collaboration are key elements in all of the case studies, helping you understand how you will work within the larger healthcare team.
Full-color design makes it easier to match up your online care mapping with content in the text.

Section I: Improving Patient Care

1. Introduction to Conceptual Care Mapping

2. Assessment

3. Communication

4. Collaboration

5. Critical Thinking

Section II: Case Studies

Case Study 1 – Ellen Halstead

Case Study 2 – Jamaal Samatar

Case Study 3 – Rachelle Wagner

Case Study 4 – Victoria Litchfield

Case Study 5 – Beatrice Keifer

Case Study 6 – Danielle Hammond

Case Study 7 – James Robertson

Case Study 8 – George Carlton

Case Study 9 – Vera Rose

Case Study 10 – Cora Jenkins

Case Study 11 – Helen Williams

Case Study 12 – Thomas Middleton

Case Study 13 – Manuel Rodriguez

Case Study 14 – Nicole Kaiser

Case Study 15 – Jack Weingart

Case Study 16 – Michael Mills

Case Study 17 – Ronald Bailey

Case Study 18 – William Ruby

Case Study 19 – Donald Bergman

Case Study 20 – Catherine Abbott

Case Study 21 – Alice Chung

Case Study 22 – Broderick Winston

Case Study 23 – Mark Summerfield

Case Study 24 – Sarah Laurent

Case Study 25 – Karen Woodruff

Case Study 26 – Edward Moore

Case Study 27 – Caleb Nguyen

Case Study 28 – Taylor Collins

Case Study 29 – Erika Pratt

Case Study 30 – Kenneth Ventura

Appendix A: NANDA Diagnoses and Definitions

Appendix B: Lab Information

Appendix C: Checklist

Appendix D: Abbreviations

Index

Barbara L Yoost, MSN, RN, CNE, ANEF and Lynne R Crawford, MSN, MBA, RN, CNE
In Stock
Most review copies are eBooks – how fast!