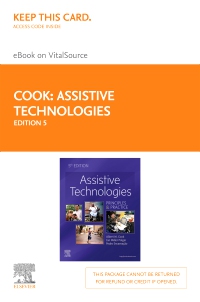 Publication Date:
01-10-2020
Assistive Technologies - Elsevier eBook on VitalSource (Retail Access Card), 5th Edition
Elsevier eBook on VitalSource - Access Card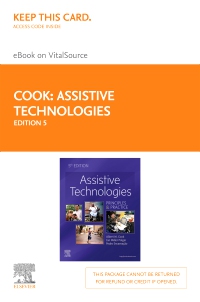 Publication Date:
01-10-2020
This item has low stock levels and may be back-ordered. We'll let you know if it is back-ordered, and you will not be charged until the item ships.
Equip students with the assistive strategies they need to make confident clinical decisions and help improve the quality of life for people with disabilities. Based on the Human Activity Assistive Technology (HAAT) model developed by Al Cook, Sue Hussey and Jan Polgar, Assistive Technologies: Principles & Practice, 5th Edition, provides detailed coverage of the broad range of devices, services, and practices that comprise assistive technology. This new text offers a systematic process for ensuring the effective application of assistive technologies — and focuses on the relationship between the human user and the assisted activity within specific contexts. It features over 30 new photos and illustrations, as well as updated chapters and case studies that reflect current technology.
Human Activity Assistive Technology (HAAT) framework locates assistive technology within common, everyday contexts for more relevant application.
Focus on clinical application guides application of concepts to real-world situations.
Study questions and chapter summaries in each chapter help assessment of understanding and identification of areas where more study is needed.
Coverage of changing AT needs throughout the lifespan emphasizes how AT fits into people's lives and contributes to their full participation in society.
Principles and practice of assistive technology provide the foundation for effective reasoning.
Ethical issues content provides vital information to guide AT service delivery.
Explicit applications of the HAAT model in each of the chapters on specific technologies and more emphasis on the interactions among the elements make content even easier to understand.

New! Thoroughly updated chapters to reflect current technology and practice.
New! Expanded discussion on assistive robotics and smart technologies.
New! Review of global initiatives on Assistive Technology.
New! Updated art program with 30+ new photos and illustrations.
New! Updated case studies to reflect changes in technology and practice since last edition.

1. Principles of Assistive Technology
2. Technologies that Assist People Who Have Disabilities
3. Activity, Human, and Context
4. Global Perspective on Assistive Technology
5. Ethical Issues in Assistive Technology
6. Delivering Assistive Technology Services to the Client
7. User Input
8. Control Interfaces for Assistive Technologies
9. Input Accessibility for Mainstream Information and Communication Technologies
10. Enabling Function and Participation with Seating Technologies
11. Technologies that Enable Mobility
12. Technologies That Aid Transportation
13. Enabling Manipulation with Low-Technology Assistive Devices
14. Electronic Aids to Daily Living
15. Robotic Assistive Technologies that Aid Manipulation
16. Sensory Aids for Persons with Visual Impairments
17. Assistive Technologies for Cognitive Augmentation
18. Augmentative and Alternative Communication Systems
Glossary

Albert M. Cook, PhD, PE, Professor Emeritus, Communication Sciences and Disorders, University of Alberta, Edmonton, Alberta, Canada, Janice Miller Polgar, BScOT, PhD, FCAOT, Professor Emerita, School of Occupational Therapy, Faculty of Health Sciences, Western University, London, Ontario, Canada and Pedro Encarnação, PhD, Assistant Professor (Affiliate), Católica Lisbon School of Business & Economics, Universidade Católica Portuguesa, Lisboa, Portugal