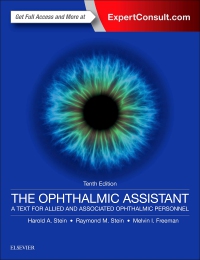 Publication Date:
03-08-2017
The Ophthalmic Assistant Elsevier eBook on VitalSource, 10th Edition
Elsevier eBook on VitalSource
Publication Date:
03-08-2017
Or $0.00 with a valid access code
Now in its tenth edition, the best-selling The Ophthalmic Assistant, by Drs. Harold A. Stein, Raymond M. Stein, and Melvin I. Freeman, is your go-to resource for practical, up-to-date guidance on ocular diseases, surgical procedures, medications, and equipment, as well as paramedical procedures and office management in the ophthalmology, optometry, opticianry or eye care settings. Thoroughly updated content and more than 1,000 full-color illustrations cover all the knowledge and skills you need for your day-to-day duties as well as success on certification and recertification exams. This comprehensive text provides essential learning and practical guidance for ophthalmic assistants, technicians, medical technologists, physician assistants, and all others involved in ocular care, helping each become a valuable asset to the eye care team.
Access to this product, which may be at the discretion of your institution, is up to 3 years of online and perpetual offline access. Elsevier reserves the right to restrict or remove access due to changes in product portfolio or other market conditions.
Full-color visual guidance for identification of ophthalmic disorders, explanations of difficult concepts, and depictions of the newest equipment used in ophthalmology and optometry.

Quick-reference appendices provide hospital/practice forms for more efficient patient record keeping, conversion tables, and numerous language translations, plus information on ocular emergencies, pharmaceuticals, and more.

Updated throughout with the latest information on basic science, new testing procedures, new equipment, the role of the assistant in the practice, and an expanded chapter on OCT imaging.

A new bonus color image atlas tests your clinical recognition of disease and disorders of the eye.

Four brand-new chapters cover the latest industry advances regarding dry eye, vision function and impairment, uveitis, and surgical correction of presbyopia.

Section One: Basic Sciences

1. Anatomy of the eye

2. Physiology of the eye

3. Optics

4. Pharmacology

5. Microbiology

Section Two: Clinical Practice

6. Office efficiency and public relations

7. History taking

8. Preliminary examination

9. Vision function and impairment

10. Understanding ophthalmic equipment

11. Refractive errors and how to correct them

12. History of spectacles

13. Facts about glasses

14. Rigid contact lenses: basics

15. Soft contact lenses

16. Advanced techniques in soft and rigid contact lens fitting

17. Dry eyes

18. Managing a contact lens practice

19. Visual fields

20. Automated visual field testing

Section Three: Common Clinical Eye Problems or Common Clinical Conditions

21. Ocular Injuries

22. The urgent case

23. Common eye disorders

24. Common retinal disorders

25. Glaucoma

26. Uveitis

27. Examination of the newborn, infant and small child

28. Maintenance of ophthalmic equipment and instruments

Section Four: Surgical Technique

29. Aseptic technique and minor office surgery

30. The operative patient

31. Highlights of ocular surgery

32. Surgical Correction of Presbyopia

33. Assisting the Surgeon

34. Lasers in ophthalmology

35. Ambulatory surgery

36. Refractive surgery

37. Corneal Collagen Cross Linking in the Management of ectatic diseases

38. Wavefront aberrations and custom ablation

Section Five: Ocular imaging

39. Optical coherence tomography

40. Computerized corneal topography

41. Specular microscopy

42. Diagnostic ultrasound

Section Six: Special procedures

43. Ocular motility and binocular vision

44. Ophthalmic photography

45. Visual aids for the partially sighted

Section Seven: Community ocular programs

46. Blind persons in the modern world

47. Art and the eye

48. Reading problems in children

49. Cardiopulmonary resuscitation

Section Eight: Expanded roles in eye care delivery

50. Computers in ophthalmic practice

Section Nine: Role of assistants in eye care

51. Allied health personnel in ophthalmology

52. Ophthalmology ethics

53. Ophthalmic allied health personnel: scope of practice

54. Testing of ophthalmic skills

55. The development of ophthalmic assistants in North America

56. Ophthalmic assisting in the international community and in the prevention of blindness

Section Ten: Atlas of Clinical Ophthalmic Disorders

57. Atlas of Clinical Ophthalmic Disorders

Harold A. Stein, MD, MSC(Ophth), FRCS(C), DOMS(London), Director, Maxwell K. Bochner Eye Institute, Toronto, Ontario; Professor of Ophthalmology, University of Toronto, Toronto, Ontario; Senior Attending Ophthalmologist, Scarborough General Hospital, Scarborough, Ontario; Attending Ophthalmologist, Mount Sinai Hospital, Toronto, Ontario; Past President, Canadian Ophthalmological Society, Ottawa, Ontario; Past President, Joint Commission on Allied Health Personnel in Ophthalmology, St. Paul, MN; Director, Professional Continuing Education, Centennial College of Applied Arts, Toronto, Ontario, Canada, Raymond M. Stein, MD, FRCS(C), Medical Director, Maxwell K. Bochner Eye Institute, Toronto, Ontario; Associate Professor of Ophthalmology, University of Toronto, Toronto, Ontario; Chief, Department of Ophthalmology, Scarborough General Hospital, Scarborough, Ontario; Attending Ophthalmologist, Mount Sinai Hospital Toronto, Ontario; Past President, Canadian Society of Cataract and Refractive Surgery, Orleans, Ontario and Melvin I. Freeman, MD, FACS, Clinical Professor of Ophthalmology, Emeritus, University of Washington School of Medicine, Seattle, WA; Affiliate Clinical Investigator, Benaroya Research Institute at Virginia Mason, Seattle, WA; Past Head of Ophthalmology, Virginia Mason Clinic and Medical Center, Seattle, WA; Past President, Joint Commission on Allied Health Personnel in Ophthalmology, St. Paul, MN; Past President, Alliance for Continuing Medical Education, Birmingham, AL