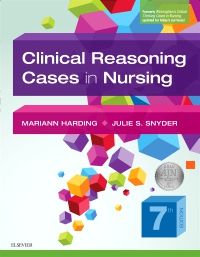 Publication Date:
01-22-2019
Clinical Reasoning Cases in Nursing - Elsevier eBook on VitalSource, 7th Edition
Elsevier eBook on VitalSource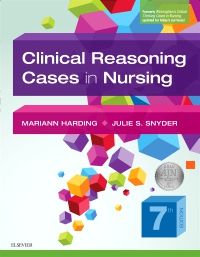 Publication Date:
01-22-2019
Or $0.00 with a valid access code
Hone your ability to make sound clinical nursing judgment via a conceptual approach to teaching and learning with Harding & Snyder's Clinical Reasoning Cases in Nursing, 7th Edition. This time-tested case study approach is highly regarded for its clinically relevant and thought-provoking cases. With each adoption, you'll be able to tap into 150 unique case studies covering all four clinical practice areas: medical-surgical, pediatric, OB/maternity, and psychiatric nursing, all newly organized to facilitate a conceptual approach to teaching and learning. Each case covers a common patient problem, drawn from actual clinical experiences and written by nurses who are clinical experts. Cases include integrated content on pharmacology, nutrition, and diagnostic/laboratory tests to encourage you to think critically about all aspects of patient care. The 7th edition features a new concept-based organization, an enhanced focus on interprofessional collaboration and QSEN, 20 all-new case studies, and updated content throughout to reflect the most current standards of clinical practice.
Awarded second place in the 2019 AJN Book of the Year Awards in Medical-Surgical category.
Comprehensive assortment of 150 case studies draws from actual clinical experiences in medical-surgical, pediatric, OB/maternity, and psychiatric clinical areas to help you think critically, prioritize, and deliver proactive nursing care.
Critical thinking approach helps you learn to identify changes, anticipate possible complications, and initiate therapeutic interventions.
Progressive case complexity builds on previous learning to help you gradually develop more and more expertise.

NEW & UNIQUE! Concept-based organization mirrors the growing use of concept-based curricula and conceptual approaches to teaching and learning in nursing education.
NEW! 20 all-new cases and four extensively-revised cases that address important contemporary healthcare issues and allow for better coordination with Giddens, HESI, and other exemplar lists.
NEW! Updated content throughout reflects the latest evidence-based clinical practice, including national and international treatment guidelines.
NEW! Enhanced focus on interprofessional collaboration identifies opportunities for interprofessional collaboration are discussed.
NEW! Greater consistency with the NCLEX Exam includes revisions like the elimination of most drug trade names and the inclusion of Canadian lab values.
Enhanced QSEN safety emphasis is highlighted with a "target" icon to communicate "caution" or "safety."
NEW! Increased emphasis on sepsis and antibiotic resistance throughout that addresses the growing problem of sepsis (a new Joint Commission "core measure") and antibiotic resistance where appropriate throughout.
NEW! Improved answer spacing ensures that space left for answers reflects what is actually needed.

1.Perfusion
2.Gas Exchange
3.Mobility
4.Digestion
5.Urinary Elimination
6.Intracranial Regulation
7.Metabolism and Glucose Regulation
8.Immunity
9.Cellular Regulation
10.Tissue Integrity
11.Cognition
12.Infection and Inflammation
13.Developmental
14.Reproductive
15.Mood, Stress, and Addiction

Mariann M. Harding, PhD, RN, CNE, FAADN, Professor of Nursing Technology,Kent State University Tuscarawas,New Philadelphia, Ohio and Julie S. Snyder, MSN, RN-BC, Performance Improvement Coordinator, Chesapeake Regional Medical Center, Chesapeake, Virginia; Adjunct Faculty, School of Nursing, Old Dominion University, Norfolk, Virginia.