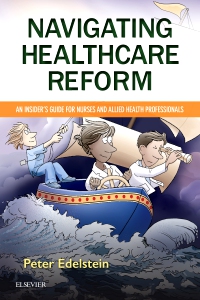 Navigating Healthcare Reform - Elsevier eBook on VitalSource
,
Elsevier eBook on VitalSource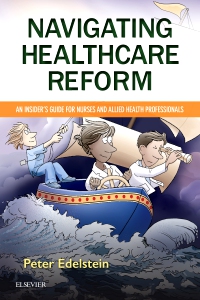 Suddenly, dramatically, and seemingly overnight, U.S. healthcare has morphed into something virtually unrecognizable. There are a slew of new requirements, regulations, goals, buzzwords, and acronyms. It is a revolution in how we view the role and responsibilities not only of the physician and patient, but also of the nurse and most other healthcare professionals. But your students don't just have to cope in this new world of healthcare. Now they can learn how to thrive amid all these changes and challenges. Written by the Chief Medical Officer of one of the world's leading global healthcare data and analytics companies, Navigating Healthcare Reform: An Insider's Guide for Nurses and Allied Health Professionals is a compelling and easy-to-follow guide to understanding our unfolding healthcare reform — including its biobehavioral and psychosocial aspects — and learning how to take advantage of the opportunities it presents.
Practical information is written expressly for nurses and allied health professionals to give you a straightforward understanding of this revolution, along with practical tips for how to survive and thrive in this new era of healthcare.
Engaging style presents content using Dr. Edelstein's trademark easy-to-understand voice.
Positive tone puts the politics aside and offers a uniquely hopeful message (one of challenges but also one of opportunity).
Noteworthy quotes throughout the text help emphasize key takeaways.
Vignettes within each chapter help to translate the content into real-life situations.
Pearl boxes in the margins summarize critical points and knowledge that can be translated into your career.
Engaging cartoons underscore the key messages of book in a fun, memorable manner.

1. Welcome Aboard 2. The History of American Healthcare Delivery: From Cavemen Until Yesterday 3. A Whole New World: The Healthcare Reform Revolution 4. Tossing the Traditional Healthcare Model on Its Head 5. Population Health Management 6. Patient Engagement 7. Clinical Decision Support 8. Interprofessional Education and Care 9. Putting It All Together: The Age of the Non-Physician Care Provider Glossary of Terms

Peter Edelstein, M.D., Chief Medical Officer, Elsevier Inc., Orlando, Florida