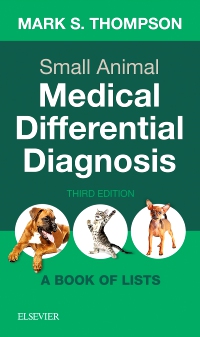 Publication Date:
12-12-2017
Small Animal Medical Differential Diagnosis Elsevier eBook on VitalSource, 3rd Edition
Elsevier eBook on VitalSource
Publication Date:
12-12-2017
Equip your vet students with instant access to the critical data they need to help form differential diagnoses and effective treatment plans with Small Animal Medical Differential Diagnosis, 3rd Edition. This portable reference covers the differential diagnosis, etiology, clinical signs, and relevant laboratory abnormalities of the most common conditions they will encounter in dogs and cats. It combines over 400 expert resources and boils them down into one quick look-up tool — a tool students need at their side to make appropriate diagnosis during clinicals.
More than 400 lists bring the most important medical diagnostic information from multiple resources into a single quick reference.
Easy identification of the likeliest diagnosis is attributed by the possibilities being listed in order of incidence.
Intuitive organization presents differential diagnosis by sign, symptom, and disorder to facilitate quick access to information.
Alphabetical listing of all relevant laboratory tests makes information easy to find.
Pocket size makes this guide portable, practical, and simple to use.

NEW! Coverage of FAST ultrasound examinations is found in the section on Focused Assessment with Sonography for Trauma, Triage, and Tracking.
NEW! Overall content update includes substantial revisions to the disorders, syndromes, and diagnostic and laboratory tests that are listed in this guide.

Part One – Clinical Signs Approach to Differential Diagnosis

Part Two – Systemic Approach to Differential Diagnosis

Section 1 – Cardiopulmonary Disorders

Section 2 – Dermatologic Disorders

Section 3 – Endocrinologic and Metabolic Disorders

Section 4 – Gastroenterologic Disorders

Section 5 – Hematologic Disorders

Section 6 – Immunologic and Immune-Mediated Disorders

Section 7 – Infectious Disease

Section 8 – Joint and Bone Disorders

Section 9 – Liver and Exocrine Pancreatic Disorders

Section 10 – Neoplasia

Section 11 – Neurologic and Neuromuscular Disorders

Section 12 – Ocular Disorders

Section 13 – Toxicology

Section 14 – Urogenital Disorder

Section 15 – Pain Diagnosis

Part Three – Laboratory Values and Interpretation of Results

Mark Thompson, DVM, DABVP(Canine and Feline), Brevard Animal Hospital, Brevard, North Carolina.