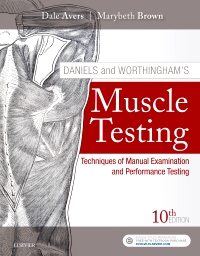 Publication Date:
08-30-2018
Daniels & Worthingham's Muscle Testing Elsevier eBook on VitalSource, 10th Edition
Elsevier eBook on VitalSource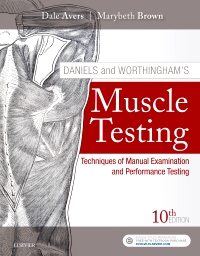 Publication Date:
08-30-2018
Or $0.00 with a valid access code
A practical handbook on evaluating muscular strength and function, Daniels and Worthingham's Muscle Testing: Techniques of Manual Examination and Performance Testing, 10th Edition helps you to understand and master procedures in manual muscle testing and performance testing. Clear, illustrated instructions provide a guide to patient positioning, direction of motion, and direction of resistance. In addition to muscle testing of normal individuals and others with weakness or paralysis, this edition includes coverage of alternative strength tests and performance tests for older adults and others with functional decline (such as the inactive and obese). The tenth edition also includes coverage of muscle dynamometry and a sampling of ideal exercises. Updated by educators Dale Avers and Marybeth Brown, this classic physical therapy reference once again features a companion website with many new video clips demonstrating the latest muscle testing procedures and alternatives to muscle testing. In addition, two online only chapters – Cranial Nerve and Ready Reference Anatomy – have been added.
Drawings and arrows along with clear written directions make it easy to understand and perform muscle testing procedures, allowing you to assess deficits in strength, balance, and range of motion.
More than 500 illustrations clearly show testing sequences, muscle anatomy, and muscle innervation.
Chapters on performance testing cover functional strength testing in older adults and those with functional decline, and testing muscle performance in various clinical settings.
Chapters on manual muscle testing address when to use manual muscle testing, the limitations of manual muscle testing, and alternatives to manual muscle testing.
Details of muscle anatomy and innervation help in linking muscle topography with function.
Helpful Hints and Substitutions boxes provide additional tips and highlight muscle substitutions that may occur during a test to ensure greater accuracy in testing.
A constant reference number clearly identifies each muscle in the body, indexed in the Alphabetical List of Muscles by Region as well as in the Ready Reference Anatomy Manual on Evolve, to speed cross-referencing and help you to quickly identify any muscle.

NEW! Content on the muscle dynamometer and muscle dynamometry data introduces you to muscle dynamometry including muscle dynamometer methods and results with each muscle.
NEW! Video clips demonstrate the latest muscle testing techniques and alternative muscle testing procedures in a clinical setting.
NEW! Ideal exercises for selected muscles thoroughly explain procedures based on the literature.
NEW! Additional Video Educational Content box alerts you when videos associated with that chapter are available to view.

1. Principles of Manual Muscle Testing
2. Relevance and Limitations of Manual Muscle Testing
3. Testing the Muscles of the Neck
4. Testing the Muscles of the Trunk and Pelvic Floor
5. Testing the Muscles of the Upper Extremity
6. Testing the Muscles of the Lower Extremity
7. Alternatives to Manual Muscle Testing
8. Testing Functional Abilities
9. Hand-held Muscle Dynamometry
10. Case Studies
Online Content
Video clips
Assessment of Muscles Innervated by Cranial Nerves
Ready Reference Anatomy

Marybeth Brown, PT, PhD, FACSM, FAPTA, Professor
Department of Physical Therapy
University of Missouri School of Health Professions
Columbia, Missouri and Dale Avers, PT, DPT, PhD, FAPTA, Professor, Department of Physical Therapy Education, College of Health Professions, SUNY Upstate Medical University, Syracuse, New York