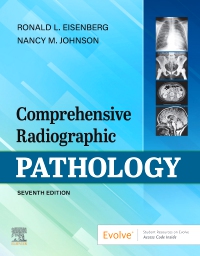 Publication Date:
04-17-2020
Comprehensive Radiographic Pathology Elsevier eBook on VitalSource, 7th Edition
Elsevier eBook on VitalSource
Publication Date:
04-17-2020
Give your students the perfect level of pathology coverage to help them consistently produce quality radiographic images with Comprehensive Radiographic Pathology, 7th Edition. This full-color text provides a foundation in the basic principles of pathology and then focuses on the radiographic appearances of diseases and injuries that are most likely to be diagnosed with medical imaging. Understanding these disease processes, the radiographic appearances, and the treatments is necessary for technologists to fully contribute to the functioning of the diagnostic team, and Eisenberg's 7th edition is the perfect resource to ground students in all three of these areas. Enhancements to this new edition include updated images in all modalities, content aligned to the latest ARRT Guidelines, updated Radiographer Notes, and the inclusion of some pediatric pathologies.
Thorough explanations help you select proper modalities and producing optimal images.
Hundreds of high-quality illustrations covering all modalities clearly demonstrate clinical manifestations of different disease processes and provide a standard for the high-quality images needed in radiography practice.
Discussion of specialized imaging explains how supplemental modalities, such as ultrasound, computed tomography, magnetic resonance imaging, nuclear medicine, single-photon emission computed tomography (SPECT), and positron emission tomography (PET) are sometimes needed to diagnose various pathologies.
Brief explanations of likely treatments provide valuable background.
Systems-based approach for building an understanding of pathology makes it easy for you to locate information and study one area at a time.

NEW! Updated images in all modalities provides the important information needed for clinical success.
NEW! Updated content matches the latest ARRT Guidelines to assist you in preparing for boards.
NEW! Updated Radiographer Notes incorporate current digital imaging information for both computed radiography and direct digital capture.
NEW! Inclusion of certain pediatric pathologies expands your comfort level with child and adolescent patients.

1. Introduction to Pathology
2. Specialized Imaging Techniques
3. Respiratory System
4. Skeletal System
5. Gastrointestinal System
6. Urinary System
7. Cardiovascular System
8. Nervous System Disease
9. Hematopoietic System
10. Endocrine System
11. Reproductive System
12. Miscellaneous Diseases
Answers to Review Questions
Appendix A Prefixes/Suffixes/Roots
Appendix B Laboratory Tests
Glossary

Ronald L. Eisenberg, MD, JD, FACR, Chairman of Radiology, Highland General Hospital, Oakland, CA; Clinical Professor of Radiology, University of California at San Francisco, San Francisco, CA; and University of California at Davis, Sacramento, CA and Nancy M. Johnson, MEd, RT(R)(CV)(CT)(QM), FASRT, Faculty, Diagnostic Medical Imaging, Gate Way Community College, Phoenix, AZ