Pass CNOR! - Elsevier eBook on Vitalsource
,
Elsevier eBook on VitalSource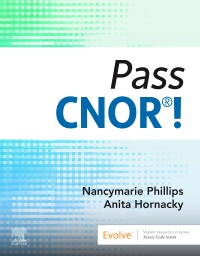 Or $0.00 with a valid access code
Not Yet Available
Coming Soon!
Expected availability date: 08-01-2019
Master the CNOR certification exam with this robust resource! Modeled after Elsevier's popular Pass! series of certification review books, PASS CNOR®!, 1st Edition delivers the best practice results with innovative learning strategies, targeted, comprehensive coverage, and meticulous accuracy. This invaluable resource mirrors the latest CNOR test plan with content presented in logical outline format accompanied by helpful illustrations and tables. Fun, engaging learning activities are featured throughout the book, and a companion website features a 325-question practice exam offering you a variety of opportunities to gain valuable test-taking practice!
NEW! Content follows the latest CNOR Test Plan to ensure you have the most current information when preparing for exams.
NEW! Easy-to-follow outline format quickly and clearly presents the information you must know to pass the CNOR exam.
NEW! Engaging learning activities provide fun and stimulating ways to learn critical concepts.
NEW! 325 practice exam questions provide valuable test-taking practice.

1. Professional Issues and Accountability in Perioperative Nursing 2. Hand Hygiene and Appropriate Attire 3. Aseptic and Sterile Techniques 4. The Perioperative Environment 5. Maintaining a Safe Perioperative Environment 6. Preoperative Patient Care 7. Intraoperative Patient Care 8. Surgical Pharmacology and Anesthesia 9. Surgical Site Management 10. Care of Surgical Instruments 11. Postoperative Patient Care 12. Special Topics 13. Practice Questions

Appendix A: The Perioperative Nursing Roles Appendix B: Answers to Practice Questions with rationales Index

Nancymarie Phillips, RN, PhD, RNFA, CNOR, Director of Perioperative Education, Lakeland Community College, Kirtland, OH