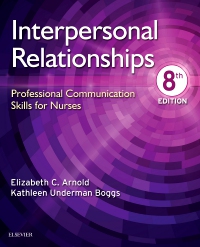 Publication Date:
02-21-2019
Interpersonal Relationships Elsevier eBook on VitalSource, 8th Edition
Elsevier eBook on VitalSource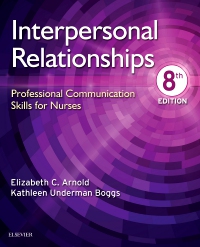 Publication Date:
02-21-2019
Or $0.00 with a valid access code
Now more than ever, effective communication skills are key for successful patient care and positive outcomes. Interpersonal Relationships: Professional Communication Skills for Nurses, 8th Edition helps you to develop skills in communicating effectively with clients, families, and colleagues in order to achieve treatment goals in health care. Using clear, practical guidelines, it shows how to enhance the nurse-client relationship through proven communication strategies as well as principles drawn from nursing, psychology, and related theoretical frameworks. The 8th edition includes engaging new content relating to current issues, while also emphasizing interdisciplinary communication and QSEN competencies. You will learn how to apply theory to real-life practice through case studies, interactive exercises, and evidence-based practice studies.
UPDATED! Perspectives and Contemporary Dynamics chapter revised to be more engaging and link the content closer to current issues and related communication concepts.
UPDATED! Communicating in Groups chapter includes professional and task small group communication applications.
UPDATED! Most chapters have been retitled and expanded to highlight a stronger emphasis on interdisciplinary health team communication.
UPDATED! Safety and Quality in health care delivery (QSEN) competencies reflects current thinking on technology, safety, and evidence-based practice, especially as they relate to communication in nursing.
UPDATED! Content throughout text includes stronger emphasis on interdisciplinary relationships and collaborative communication with related evidence based case studies and analysis.
Expanded content related to socio-cultural communication competencies reduce health disparities and increase health literacy.
Additional simulated exercises and discussion questions help you practice your reflective analysis skills.
Revised content on social media and transitional care delivery reflects current practice standards.
Discussion of spirituality and end-of-life needs focuses on trust, empathy, and the nurse-client relationship — all central components of holistic nursing identified by The Joint Commission as priorities for patient care.
Nursing, behavioral, developmental, family, and communication theories provide an essential foundation and a theoretical perspective for effective communication.
Interactive exercises let you practice, observe, and critically evaluate your professional communication skills in a safe learning environment.
Case examples help you learn to develop empathy for clients' perspectives and needs.
Ethical Dilemma and Evidence-Based Practice boxes help you absorb and retain key ethical content throughout text.
Separate chapters on communication across the lifespan highlights crucial communication tools that are the first step in developing a culture of safety in contemporary health care delivery.

NEW! Engaging content links the text to current issues and communication concepts.

Part I: Theoretical Foundations and Contemporary Dynamics in Patient Centered Relationships and Communication 1. Historical Perspectives and Contemporary Dynamics 2. Clarity and Safety in Communication 3. Professional Guides for Nursing Communication 4. Critical Judgment: Critical Thinking and Ethical Decision Making

Part II: Essential Communication Competencies 5. Developing Patient Centered Communication Skills 6. Variation in Communication Styles 7. Intercultural Communication 8. Communicating in Groups

Part III: Relationship Skills in Health Communication 9. Self-Concept in Professional Interpersonal Relationships 10. Developing Patient Centered Therapeutic Relationships 11. Bridges and Barriers in Therapeutic Relationships 12. Communicating with Families

Part IV: Communication for Health Promotion and Disease Prevention 13. Resolving Conflicts Between Nurse and Patient 14. Communication Strategies for Health Promotion and Disease Prevention 15. Communication in Health Teaching and Coaching 16. Communication in Stressful Situations

Part V: Accommodating Patients with Special Communication Needs 17. Communicating with Patients Experiencing Communication Deficits 18. Communicating with Children 19. Communicating with Older Adults 20. Communicating with Patients in Crisis 21. Communication in Palliative Care

Part VI: Collaborative Professional Communication 22. Role Relationship Communication within Nursing 23. Interprofessional Communication 24. Communicating for Continuity of Care 25. Documentation in Health Information Technology Systems 26. Health and Communication Technology

Elizabeth C. Arnold, PhD, RN, PMHCNS-BC, Associate Professor of Nursing, Retired, University of Maryland, Baltimore, MD; Family Nurse Psychotherapist, Montgomery Village, MD and Kathleen Underman Boggs, PhD, FNP-CS, Family Nurse Practitioner; Associate Professor Emeritus, College of Health and Human Services, University of North Carolina at Charlotte, Charlotte, North Carolina.