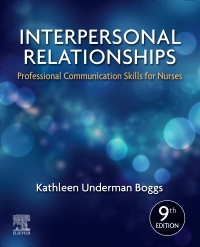 Publication Date:
07-21-2022
Interpersonal Relationships Elsevier eBook on VitalSource, 9th Edition
Elsevier eBook on VitalSource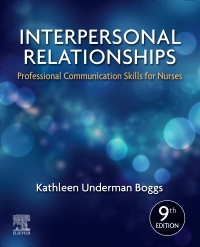 Publication Date:
07-21-2022
Or $0.00 with a valid access code
Master the skills you need to communicate effectively in the health care setting! Interpersonal Relationships: Professional Communication Skills for Nurses, 9th Edition shows how you can interact with patients, families, and the health care team in ways that are professional, honest, empathetic, and knowledgeable. A clear guide to essential competencies, this book covers relationship skills, health promotion, patients with special communication needs, and interprofessional communication. Case examples make it easier to apply communication theories to real-life practice. New to this edition are Next Generation NCLEX® (NGN)-style case studies and a new chapter on managing personal stress. Written by noted educator Kathleen Underman Boggs, this reference is a two-time winner of the American Journal of Nursing Book of the Year award.
Integrated holistic health approach focuses on patient-centered communication and the entire health experience, which requires a fresh perspective and a higher level of patient and family involvement.
Nursing, behavioral, developmental, family, and communication theories provide an essential foundation and a theoretical perspective for effective communication.
Learning features in each chapter include objectives, basic concepts, and clinical application, all connected by case examples and a relevant research study or analysis of multiple studies.
Case examples help you learn to develop empathy for clients' perspectives and needs.
Simulation exercises offer an opportunity to practice, observe, and critically evaluate your professional communication skills in a safe learning environment.
Evidence-Based Practice boxes summarize research findings related to the chapter topic
Ethical Dilemma boxes help you understand key ethical concepts.
Chapters on communication across the lifespan focus on the communication needs of children, older adults, patients with communication deficits, patients in end-of-life care, and others.
Coverage of Quality & Safety Education for Nurses (QSEN) competencies focuses on the skills, knowledge, and abilities needed for patient-centered care.

NEW! Next Generation NCLEX®-style case studies apply concepts to realistic scenarios.
NEW! Intrapersonal Communication to Self-Manage Stress and Promote Nurse Wellness chapter introduces self-communication and specific self-management strategies.
NEW! Updated content links concepts to current issues and best practices, and reflects national and global clinical guidelines as well as a new understanding of patient-centered communication, collaborative interprofessional communication, and team-based approaches.
NEW! Updated chapters on interprofessional collaboration and teamwork highlight a team-based model of health care, with patients, providers, and families working together.

PART I Theoretical Foundations and Contemporary Dynamics in Patient-Centered Relationships and Communication
1. Communication Theories and Nursing Concepts
2. Clarity and Safety in Communication
3. Professional Guides for Nursing Communication
4. Clinical Judgment: Critical Thinking and Ethical Decision-Making
PART II Essential Communication Competencies
5. Developing Patient-Centered Communication Skills
6. Variation in Communication Styles
7. Intercultural Communication and Patient Diversity
8. Communicating in Groups
PART III Relationship Skills in Health Communication
9. Self-Concept in Professional Interpersonal Relationships
10. Developing Patient-Centered Therapeutic Relationships
11. Bridges and Barriers in Therapeutic Relationships
12. Communicating With Families
13. Resolving Conflicts Between Nurse and Patient
PART IV Communication for Health Promotion and Disease Prevention
14. Communication Strategies for Health Promotion and Disease Prevention
15. Communication in Health Teaching and Coaching
16. Communication With Patients Who Are in Stressful Situations
PART V Accommodating Patients With Special Communication Needs
17. Communicating With Patients Experiencing Communication Deficits
18. Communicating With Children
19. Communicating With Older Adults
20. Communicating With Patients in Crisis
21. Communication Approaches in Palliative Care
PART VI Collaborative Professional Communication
22. Role Relationship Communication Within Nursing
23. Interprofessional Communication
24. Communicating for Continuity of Care
25. e-Documentation in Health Information Technology Systems
26. Mobile-Health and Communication Technology
27. Intrapersonal Communication to Self-Manage Stress and Promote Nurse Wellness
Appendix I: Next-Generation NCLEX® Examination-Style
Case Study Answers
Glossary
Index

Kathleen Underman Boggs, PhD, FNP-CS, Family Nurse Practitioner; Associate Professor Emeritus, College of Health and Human Services, University of North Carolina at Charlotte, Charlotte, North Carolina.