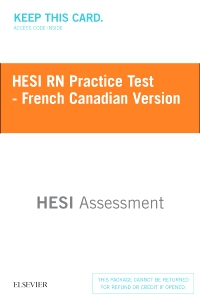 Publication Date:
09-15-2015
HESI RN Practice Test - French Canadian Version - Classic Version, 1st Edition
HESI Practice Test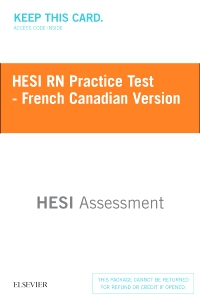 Publication Date:
09-15-2015
Any student who attempts to register for access will be reported to the school's faculty and administration.
Des examens non-surveillés, préparés au préalable, vous aideront à évaluer vos étudiants sur leurs connaissances et concepts appris. En même temps, ceux-ci les aideront à s'accoutumer aux examens standardisés avec des questions de pratique du type utilisé dans les examens NCLEX-RN. Ces questions d'examen sont développées pour vérifier si les étudiants sont capables d'appliquer leurs connaissances théoriques à la pratique infirmière.
L'examen HESI inclut plus de 600 questions à choix multiple ainsi que des questions à format alternatif formulées au niveau de la pratique afin de développer et évaluer la pensée critique des étudiants. Une version du test de pratique HESI donne aux étudiants l'opportunité de reprendre leurs questions autant de fois qu'ils le veulent et inclut les réponses correctes ainsi que le raisonnement derrière chaque choix de réponse (Version de Pratique).
HESI

This product is available in the following formats: