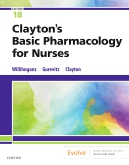 Evolve resources for Clayton's Basic Pharmacology for Nurses
,18th Edition
Resources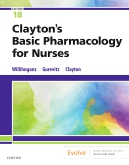 Not Yet Available
Coming Soon!
Expected availability date: 03-01-2019
Educator Resources on Evolve
TEACH instructor resources

Lesson plans
PowerPoint slides
Student handouts
Answer keys

Chapter pre-tests
Test bank
Image collection
Michelle Willihnganz, Samuel L Gurevitz, PharmD, CGP, Associate Professor, Butler University College of Pharmacy and Health Sciences, Indianapolis, IN and Bruce D. Clayton, BS, PharmD, RPh, Professor of Pharmacy Practice, College of Pharmacy & Health Sciences, Butler University. Indianapolis, IN

This product is available in the following formats:
Not Yet Available
Coming Soon!
Expected availability date: 03-01-2019