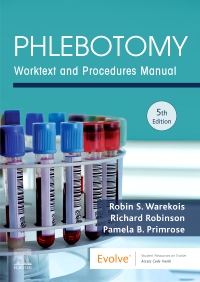 Evolve Resources for Phlebotomy
, 5th Edition
Resources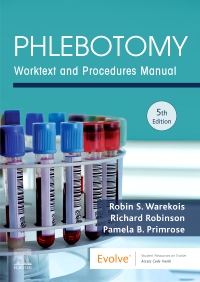 Not Yet Available
Coming Soon!
Expected availability date: 10-01-2019
Educator Resources on Evolve
TEACH Instructor's Resources

Lesson Plans
PowerPoint Presentations
Student Handouts
Answer Keys

Test Bank – 600 multiple-choice questions, each with answer, rationale for correct and incorrect responses, cognitive leveling, and page number for remediation
Image collection
Competency Checklists
NEW! Accreditation mapping documents (NACCLS and Medical Assisting competencies)
NEW! Chapter mapping to phlebotomy certification test plans
Student Resources on Evolve 
Mock Certification Exams – Two 100-question practice exams, each with questions that include an answer, rationale for correct and incorrect responses, and page-number remediation mapping
Procedure videos – 28 videos with closed-captioning and NEW audio narration for full accessibility
Interactive exercises – drag-and-drop activities and glossary flashcards
Audio glossary
NEW! Animations focusing on anatomy and physiology
Robin S. Warekois, BS, MT(ASCP), Pathology Outreach & Client Services, VCU Health Systems, Richmond, VA, Richard Robinson, NASW, Sherborn, MA and Pamela Primrose

This product is available in the following formats:
Not Yet Available
Coming Soon!
Expected availability date: 10-01-2019