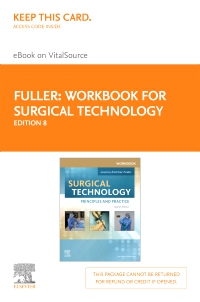 Publication Date:
03-04-2021
Workbook for Surgical Technology - Elsevier eBook on VitalSource (Retail Access Card), 8th Edition
Elsevier eBook on VitalSource - Access Card
Publication Date:
03-04-2021
This item has low stock levels and may be back-ordered. We'll let you know if it is back-ordered, and you will not be charged until the item ships.
Give your students the review and practice they need to succeed on classroom and certification exams! Corresponding chapter by chapter to Fuller's Surgical Technology: Principles and Practice, 8th Edition textbook, this practical workbook helps students master the role and the essential skills of the surgical technologist. Each chapter contains a variety of activities, including key terms, labeling, practice questions, and realistic case studies with critical thinking exercises. Designed to accommodate different learning styles, this study tool ensures that your students have everything they need for success in surgical technology careers.
Case studies encourage you to think strategically and apply your knowledge to realistic situations in the operating room environment.
More than 80 Skills Checklists provide clear guidelines for performing each skill, and help you evaluate your performance of core functions by practicing skills until you have mastered them.
Variety of exercises includes a review of key terms, practice questions, labeling exercises, and case studies with critical thinking questions, reinforcing your understanding and preparing you for in-class testing and for the certification exam.
Reader-friendly writing style and organization makes the content easier to understand.

NEW Robotic Surgery chapter includes exercises for the most frequently performed minimally invasive procedures involving surgical robots.
NEW! Updated and expanded Skills Checklists add coverage of patient preparation, transporting, positioning, and draping.
NEW! Updated exercises are provided for the updated and expanded content in the surgical technology textbook.
NEW! Additional multiple-choice questions mirror the types of questions found on the Certified Surgical Technologist exam.

1. Surgical Technology: The Profession and the Professional
2. Communication and Teamwork
3. Medicolegal Aspects of Surgical Technology
4. The Health Care Facility
5. Supporting the Psychosocial needs of the Patient
6. Diagnostic and Assessment Procedures
7. Hazards in the Perioperative Environment
8. Microbes and the Process of Infection
9. Sterile Technique and Infection Control
10. Decontamination, Sterilization, and Disinfection
11. Surgical Instruments
12. Perioperative Pharmacology
13. Anesthesia, Physiological Monitoring, and Post-Anesthesia Recovery
14. Death and Dying
15. Energy Sources in Surgery
16. Moving, Handling, and Positioning the Surgical Patient
17. Surgical Skin Preparation and Draping
18. Surgical Skills I: Planning a Case, Opening, and Start of Surgery
19. Surgical Skills II: Intraoperative and Immediate Postoperative Period
20. Minimally Invasive Surgery
21. Robotic Surgery
22. General Surgery
23. Gynecological and Obstetrical Surgery
24. Genitourinary Surgery
25. Ophthalmic Surgery
26. Surgery of the Ear, Nose, Pharynx, and Larynx
27. Oral and Maxillofacial Surgery
28. Plastic and Reconstructive Surgery
29. Orthopedic Surgery
30. Peripheral Vascular Surgery
31. Thoracic and Pulmonary Surgery
32. Cardiac Surgery
33. Pediatric Surgery
34. Neurosurgery
35. Emergency Trauma Surgery
36. Disaster Preparedness and Response

Joanna Kotcher Fuller, Independent Consultant in Medical and Surgical Coordination in Conflict Environments, USA