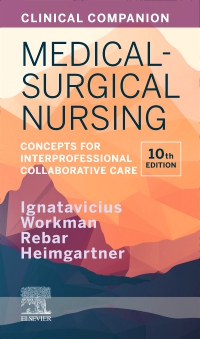 Publication Date:
12-07-2020
Clinical Companion for Medical-Surgical Nursing - Elsevier eBook on VitalSource, 10th Edition
Elsevier eBook on VitalSource
Publication Date:
12-07-2020
Choose this concise, go-to reference for your medical-surgical nursing students! Corresponding to Medical-Surgical Nursing: Concepts for Interprofessional Collaborative Care, 10th Edition, from Ignatavicius, Workman, Rebar, and Heimgartner, the Clinical Companion is a thoroughly updated, easy-to-use, A-to-Z guide to more than 250 common medical-surgical conditions and their management. This portable resource features a strong focus on the Concepts and Exemplars identified in the "Iggy" textbook, along with updated content cross-referenced to the main text. Emphasizing interprofessional collaborative care, this clinical companion is sure to become your students' most trusted clinical reference.
UNIQUE! Concepts for Interprofessional Collaborative Care section reflects the emphasis on Concepts in the Ignatavicius textbook and provides students with a quick reference to essential nursing and health Concepts for effective clinical practice.
A-Z synopses of more than 250 diseases and disorders — along with related interprofessional collaborative care — serve as a quick reference for clinicals and a study resource for essential medical-surgical content.
UNIQUE! QSEN highlights focus on one or more of the six core QSEN competencies (patient-centered care, teamwork and collaboration, evidence-based practice, quality improvement, safety, and informatics) to help students understand how to apply QSEN competencies for safe, effective care.
UNIQUE! Focus on interprofessional collaboration provides tips for coordinating care with other health professionals.
UNIQUE! Nursing Safety Priorities boxes (Drug Alert, Critical Rescue, and Action Alert) reinforce critical safety measures at the bedside and mirror those in the Ignatavicius textbook.
Printed thumb tabs appear along the edges of the pages for quick access to clinical information and just-in-time learning and reference on the job.

NEW! Updated content throughout matches the 10th edition of the Ignatavicius textbook for a reliably seamless reference and study experience.
NEW and UNIQUE! Stronger focus on Concepts and Exemplars reflects the more conceptual focus of the Ignatavicius textbook and includes cross-references to relevant disorders in the main text for more information.
NEW! Data-driven Exemplars reflect disorders identified by "national drivers" such as the Centers for Disease Control and Prevention (CDC), Healthy People 2020, diagnosis-related groups (DRGs), and other national and international initiatives, as well as commonly encountered diseases and conditions.
NEW! Streamlined content and format reduces pathophysiology review (which can be readily found in the main text) and focuses on need-to-know content for bedside care, including essential assessment guidelines to promote good clinical judgment, as well as one consistent heading structure for Exemplar disorders and a consistent "collapsed" heading structure for non-Exemplar disorders.
NEW! Expanded use of illustrations makes it easier for students to apply key content to clinical settings.

Section I: Concepts for Interprofessional Collaborative Care

Section II: Diseases and Disorders: Alphabetical entries for more than 250 common Exemplar and non-Exemplar disorders

Donna D. Ignatavicius, MS, RN, CNE, CNEcl, ANEF, Speaker and Curriculum Consultant for Academic Nursing Programs; Founder, Boot Camp for Nurse Educators; President, DI Associates, Inc. Littleton, Colorado,United States, Chris Winkelman, RN, PhD, CCRN, ACNP, Assistant Professor, Frances Payne Bolton School of Nursing, Case Western Reserve University; Clinical Nurse, Trauma/Critical Care Float Pool, MetroHealth Medical Center, Cleveland, Ohio, M. Linda Workman, PhD, RN, FAAN, Visiting Professor, Case Western Reserve University, Cleveland, Ohio, Cherie R. Rebar, PhD, MBA, RN, COI, Subject Matter Expert and Nursing Education Consultant, Beavercreek, Ohio; Professor of Nursing, Wittenberg University, Springfield, Ohio and Nicole M. Heimgartner, DNP, RN, CNE, CNEcl, COI, Subject Matter Expert and Nursing Education Consultant, Louisville, Kentucky; Adjunct Faculty, American Sentinel University, Aurora, Colorado