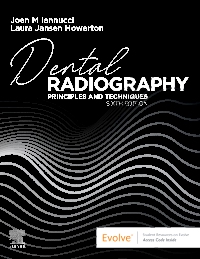 Publication Date:
10-08-2021
Dental Radiography - Elsevier eBook on VitalSource, 6th Edition
Elsevier eBook on VitalSource
Publication Date:
10-08-2021
Teach your students the skills required for safe, effective dental imaging! Dental Radiography: Principles and Techniques, 6th Edition provides a solid foundation in the radiation and technique basics that dental assistants and dental hygienists need to know. Clear, comprehensive coverage includes detailed, step-by-step procedures, illustrations of oral anatomy and photos of new equipment, digital and three-dimensional imaging, a guide to image interpretation, and National Board Dental Hygiene Examination-style case scenarios. With enhanced teaching resources on Evolve, Elsevier's bestselling text on dental radiography prepares students for success in the classroom, on the CDA or NBDHE exam, and in clinical practice.
Comprehensive coverage provides a solid foundation for the safe, effective use of radiation in the dental office.
Step-by-step procedures support clear instructions with anatomical drawings, positioning photos, and radiographs, helping you confidently and accurately perform specific techniques and minimize radiation exposure to the patient.
Application to Practice and Helpful Hint features highlight common clinical encounters and provide a checklist with the dos and don'ts of imaging procedures.
Summary tables and boxes recap the key points of text discussions and serve as useful review and study tools.
End-of-chapter quiz questions assess your understanding of important content.
Evolve companion website supplements the print book with case studies, interactive exercises, review questions, and more.

NEW! Expanded content addresses the areas of digital imaging, radiographic interpretation, dental materials, and dental X-ray equipment.
NEW! Updated illustrations include detailed equipment photos and new photos of techniques.
NEW! Procedure videos on the Evolve website demonstrate techniques used for intraoral exposures, and include an interactive Q&A on the video material.
NEW! Canadian Content Corner on Evolve provides information specific to dental radiography in Canada.

PART I: Radiation Basics and Dental Image Characteristics
1. Radiation History
2. Radiation Physics
3. Radiation Biology
4. Radiation Protection
5. Radiation Characteristics
6. Dental X-Ray Image Characteristics
PART II: Equipment and Digital Imaging Basics
7. Dental X-Ray Equipment
8. Digital Imaging
PART III: Film Imaging Basics
9. Dental X-Ray Film
10. Film Processing
11. Film Mounting and Viewing
PART IV: Dental Radiographer Basics
12. Dental Images and the Dental Radiographer
13. Patient Relations and the Dental Radiographer
14. Patient Education and the Dental Radiographer
15. Legal Issues and the Dental Radiographer
16. Infection Control and the Dental Radiographer
17. Quality Assurance in the Dental Office
PART V: Intraoral Technique Basics
18. Introduction to Dental Imaging Examinations
19. Paralleling Technique
20. Bisecting Technique
21. Bite-Wing Technique
22. Exposure and Technique Errors
23. Occlusal and Localization Techniques
24. Imaging of Patients with Special Needs
PART VI: Extraoral Imaging Basics
25. Panoramic Imaging
26. Extraoral Imaging
27. Three-Dimensional Digital Imaging
PART VII: Normal Anatomy Basics
28. Normal Anatomy: Intraoral Images
29. Normal Anatomy: Panoramic Images
PART VIII: Image Interpretation Basics
30. Introduction to Image Interpretation
31. Descriptive Terminology
32. Identification of Restorations, Dental Materials, and Foreign Objects
33. Interpretation of Dental Caries
34. Interpretation of Periodontal Disease
35. Interpretation of Trauma, Pulpal Lesions, and Periapical Lesions
Appendix: Periodontal and Peri-Implant Diseases
Glossary
Index

Joen Iannucci, DDS, MS, Professor of Clinical Dentistry, Division of Dental Hygiene, College of Dentistry, The Ohio State University, Columbus, OH and Laura Jansen Jansen Howerton, RDH, MS, Instructor, Wake Technical Community College, Raleigh, North Carolina