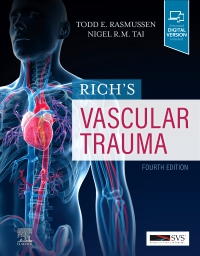 Publication Date:
11-04-2021
Rich's Vascular Trauma, 4th Edition
Hardcover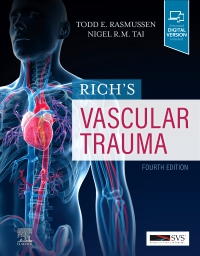 Publication Date:
11-04-2021
Covers all vascular surgery procedures required to stop hemorrhage and restore perfusion in vessels in the limbs, junctional areas, torso and neck, including damage control techniques such as shunting, and endovascular techniques such as REBOA and stenting.

Addresses pre-hospital, emergency department, surgical, and endovascular stages of treatment in developed, austere and deployed settings, including a rich section on vascular trauma in multiple international settings that provides important context for the global surgical community.

Includes nine new chapters covering prehospital management, endovascular suites, stent-grafts, selective aortic arch perfusion, extracorporeal systems and gathering evidence in vascular trauma, and more.

Presents surgical techniques in step-by-step, highly illustrated detail, as well as high level, strategic decision-making such as the logistics of setting up an endovascular trauma service.

Includes a new, rapidly digestible "Tips and Tricks" section summarizing how to execute essential vascular maneuvers and management steps to ensure that patients get the best outcomes.

Emphasizes the current management of civilian vascular injuries while drawing upon the best available evidence, experience, and lessons learned from Afghanistan, Iraq, and the "urban battlefield."

Contains an innovative chapter on the systems approach and quality improvement in vascular trauma, offering information and tactics for all providers wishing to understand how clinical systems underpin patient outcome and recovery.

Enhanced eBook version included with purchase. Your enhanced eBook allows you to access all of the text, figures, and references from the book on a variety of devices.

1 The Vascular Injury Legacy
2 Epidemiology of Vascular Trauma
3 Systems of Care in the Management of Vascular Injury
4 Training Paradigms for Vascular Trauma
5 Prehospital Management of Vascular Injury
6 Damage Control and Immediate Resuscitation for Vascular Trauma
7 Diagnosis of Vascular Injury
8 Imaging for the Evaluation and Treatment of Vascular Trauma
9 Endovascular Suites and the Emergency Vascular Service
10 Stentgrafts, Coils and Plugs
11 Resuscitative Endovascular Balloon Occlusion of the Aorta (REBOA)
12 Endovascular Variable Aortic Control (EVAC)
13 Selective Aortic Arch Perfusion (SAAP)
14 Extracorporeal Systems for Injury and Shock
15 Gathering the Evidence: Clinical Study of New Technologies
16 Cardiac, Great Vessel, and Pulmonary Injuries
17 Blunt Thoracic Aortic Injury
18 Abdominal Aortic Trauma, Iliac and Visceral Vessel Injuries
19 Inferior Vena Cava, Portal, and Mesenteric Venous Systems
20 Neck and Thoracic Outlet
21 Upper Extremity and Junctional Zone Injuries
22 Lower Extremity Vascular Trauma
23 Surgical Damage Control and Temporary Vascular Shunts
24 Considerations for Conduit Repair of Vascular Injury
25 Management of Pediatric Vascular Injury
26 Soft-Tissue and Skeletal Wound Management in the Setting of Vascular Injury
27 Vascular Surgery in the Austere Environment
28 Australia and New Zealand
29 Sri Lanka
30 Croatia
30 Finland
31 Qatar
31 Sweden
32 Russia
33 Serbia
34 Israel
35 South Africa
36 Colombia
37 Brazil
Index and front matter
Clinical Pearls

Todd E. Rasmussen, MD, FACS, Colonel (ret.) USAF MC, Professor and Vice Chair of Education, Senior Associate Consultant in Vascular Surgery, Mayo Clinic, Rochester, Minnesota and Nigel R M Tai, MS FRCS(Gen) L/RAMC, Clinical Lead, Vascular Surgery and Consultant Vascular and Trauma Surgeon Royal London Hospital, Barts Health NHS Trust, London UK.
Head jHubMed and Assistant Head (Implementation), Research & Clinical Innovation, Defence Medical Services, UK Strategic Command.