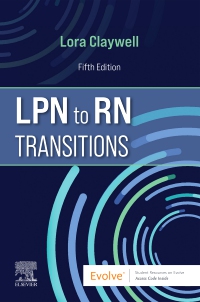 LPN to RN Transitions - Elsevier eBook on VitalSource, 5th Edition
Elsevier eBook on VitalSource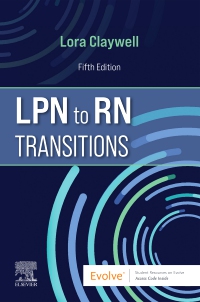 Not Yet Available
Coming Soon!
Expected availability date: 08-01-2021
LPN to RN Transitions, 5th Edition makes it easy for students to advance in their nursing career with all of the essential information they need to pursue their RN degree and practice as registered nurses. This new edition includes practical information on role transition, cultural competency, delegation, interprofessional collaboration, professional writing, and more. Plus, newly revised and updated chapters provide the latest information for one complete, indispensable resource to help students succeed in everything from the classroom to clinical practice!
Clear, succinct coverage helps you understand the issues that an RN must address for a successful practice.
Respect for the accomplishments of the LPN is emphasized throughout the text.
Engaging design and thoughtful exercises keep you focused on key concepts and learning objectives.
Critical thinking questions at the end of every chapter reinforce your understanding of important content.
Patient scenarios and Application to Practice boxes challenge you to apply your knowledge to real-world clinical situations.
FYI boxes encourage you to think about how your day-to-day interactions will change as an RN.
Key Terms and Key Points help you learn vocabulary words and concepts related to the topic being discussed.

NEW! Interprofessional collaboration coverage prepares you to work effectively with other members of the healthcare team.
NEW! Information on trauma-Informed care prepares you to deliver care with a person-centered approach, which promotes a collaborative, trusting, respectful, and emotionally supportive care environment.
NEW! Coverage of competencies for the RN gives you a clear vision of what skills registered nursing encompasses and how they differ from practical or vocational nursing.
UPDATED! Next Generation NCLEX®-style content prepares you for the upcoming changes to the NCLEX-RN® exam.
EXPANDED! Additional information on key topics enhances coverage of time management, preparing for class, self-care, prioritization, outcomes and cost containment, mandatory reporting, and case management for chronic illness across all settings, including home care.

UNIT ONE ESSENTIAL SKILLS TO BEGIN YOUR TRANSITION

1 Honoring Your Past, Planning Your Future

2 Assessing Yourself and Designing Success

3 Study Habits and Test-Taking Skills

UNIT TWO THE PROFESSION AND DISCIPLINE OF REGISTERED NURSING

4 Distinguishing the RN Role from the LPN/LVN Role

5 Using Nursing Theory to Guide Professional Practice

6 Providing Patient-Centered Care Through the Nursing Process

7 Critical and Diagnostic Thinking for Better Clinical Judgment

UNIT THREE THE RN AS PROVIDER OF CARE

8 Practicing Evidence-Based Decision Making

9 Communicating with Patients and Co-Workers

10 Teaching Patients and Their Families

11 The Nurses, Ideas, and Forces That Define the Profession

12 Upholding Legal and Ethical Principles

13 Care and Safety Standards, Competence, and Nurse Accountability

UNIT FOUR THE RN AS MANAGER OF CARE

14 Leading, Delegating, and Collaborating

15 Promoting Healthful Living in the Primary Care Setting

16 Managing Care in Secondary and Tertiary Health Care

UNIT FIVE  PUTTING IT ALL TOGETHER

17 Reflecting on Your Transition

18. Prepare Now to Pass NCLEX-RN®

Appendices:

Basic Math Review

Lora Claywell, MSN, RN, Director of Academic Initiatives, Digital Med, Inc., St. Louis, MO
Not Yet Available
Coming Soon!
Expected availability date: 08-01-2021