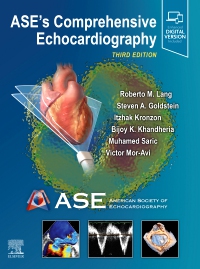 Publication Date:
04-15-2021
ASE's Comprehensive Echocardiography, 3rd Edition
Hardcover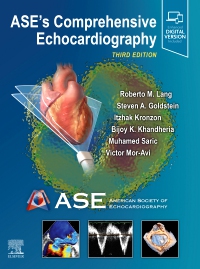 Publication Date:
04-15-2021
In Stock
Most review copies are eBooks – how fast!
A review copy request is most likely to be fulfilled as an eBook on VitalSource rather than a print product, unless no eBook is available. eBooks become available in as little as a few hours. Print products will take between 7 and 10 days to arrive. To request a print copy, please contact the
Evolve Support Center
or your
Education Solutions Consultant
.
Discusses all the latest methods to assess cardiac chamber size and function, valvular stenosis/regurgitation, cardiomyopathies, coronary artery disease, complications of myocardial infarction, and other cardiac pathologies.

Covers recent advances in critical care echocardiography, cardio-oncology, structural heart disease, interventional/intraoperative echocardiography, strain imaging of left and right heart chambers, multimodality imaging in systemic diseases, and novel 3D techniques.

Contains more than 1,200 updated images: echocardiograms (including 2D, 3D, and Doppler), diagrams, anatomic drawings, algorithmic drawings, and more.

Provides access to nearly 600 full-motion echocardiography video clips.

Keeps you up to date with the latest echocardiography practice guidelines and advanced technologies.

Enhanced eBook version included with purchase. Your enhanced eBook allows you to access all of the text, figures, and references from the book on a variety of devices.

Section I Physics and Instrumentation 1. General Principles of Echocardiography 2. Three-Dimensional Echocardiography 3. Doppler Principles 4. Tissue Doppler, Myocardial Work: Physics and Techniques 5. Speckle Tracking and Strain Measurements: Principles, Techniques and Limitations 6. Clinical Utility of Global Longitudinal Strain Section II Transthoracic Echocardiography 7. Transthoracic Echocardiography: Nomenclature and Standard Views 8. Technical Quality and Tips 9. Transthoracic Echocardiography Tomographic Views 10. M-Mode Echocardiography 11. Doppler Echocardiography: Normal Antegrade Flow Patterns Section III Transesophageal Echocardiography 12. Introduction to Transesophageal Echocardiography: Indications, Risks, Complications, and Protocol 13. Transesophageal Echocardiography Tomographic Views 14. Applications of Transesophageal Echocardiography 15. Pitfalls and Artifacts in Transesophageal Echocardiography Section IV Hand-Held Echocardiography 16. Cardiac Point-of-Care Ultrasound: Background, Instrumentation and Technique 17. Echocardiography in Emergency Clinical Presentation Section V Contrast Echocardiography 18. Ultrasound Contrast Agents 19. Physical Properties of Microbubble Ultrasound Contrast Agents 20. Applications of Ultrasound Contrast Agents 21. Use of Contrast in the ICU and Emergency Department 22. Technical Aspects of Contrast Echocardiography Section VI Left Ventricular Systolic Function 23. Left Ventricular Systolic Function: Basic Principles 24. Global Left Ventricular Systolic Function: Ejection Fraction Versus Strain 25. Regional Left Ventricular Systolic Function 26. Myocardial Strain in Valvular Heart Disease Section VII Right Heart 27. Right Ventricular Anatomy 28. The Physiologic Basis of Right Ventricular Echocardiography 29. Imaging the Right Heart: Limitations and Technical Considerations 30. Assessment of Right Ventricular Systolic and Diastolic Function 31. Right Ventricular Hemodynamics 32. The Right Atrium 33. Pulmonary Embolism Section VIII Diastolic Function 34. Physiology of Diastole 35. Echo Doppler Parameters of Diastolic Function 36. Clinical Recommendations for Echocardiography Laboratories for Assessment of Left Ventricular Diastolic Function and Filling Pressures 37. Causes of Diastolic Dysfunction Section IX Left Atrium 38. Assessment of Left Atrial Size 39. Assessment of Left Atrial Function Section X Ischemic Heart Disease 40. Ischemic Heart Disease: Which Test to Use? 41. Ischemic Heart Disease: Basic Principles 42. Acute Chest Pain Syndromes: Differential Diagnosis 43. Echocardiography in Acute Myocardial Infarction 44. Echocardiography in Stable Coronary Artery Disease 45. Old Myocardial Infarction 46. End-Stage Cardiomyopathy Due to Coronary Artery Disease 47. Coronary Artery Anomalies 48. Coronary Artery Imaging Section XI Stress Echocardiography 49. Effects of Exercise, Pharmacological Stress and Pacing on the Cardiovascular System 50. Diagnostic Criteria and Accuracy 51. Stress Echocardiography: Methodology 52. Stress Echocardiography: Image Acquisition 53. Stress echocardiography: Prognosis 54. Echocardiography for the Assessment of Myocardial Viability in Ischemic Cardiomyopathy 55. Contrast-Enhanced Stress Echocardiography 56. Stress Echocardiography for Valve Disease: Aortic Regurgitation and Mitral Stenosis 57. Stress Echocardiography: Comparison with Other Techniques Section XII Hypertrophic Cardiomyopathies 58. Pathophysiology and Variants of Hypertrophic Cardiomyopathy 59. Hypertrophic Cardiomyopathy: Pathophysiology, Functional Features and Treatment of Outflow Tract Obstruction 60. Differential of Hypertrophic Cardiomyopathy versus Secondary Conditions That Mimic Hypertrophic Cardiomyopathy 61. Hypertrophic Cardiomyopathy: Assessment of Therapy 62. Hypertrophic Cardiomyopathy: Screening of Relatives 63. Apical Hypertrophic Cardiomyopathy 64. The Role of Echocardiography in the Screening and Evaluation of Athletes 65. Echocardiographic Assessment of Myocarditis Section XIII Dilated and Other Cardiomyopathies 66. Dilated Cardiomyopathy: Etiology, Pathophysiology and Echocardiographic Evaluation 67. Echocardiographic Predictors of Outcome in Patients with Dilated Cardiomyopathy 68. Right Ventricle in Dilated Cardiomyopathy 69. Restrictive Cardiomyopathy: Classification 70. Echocardiographic Diagnosis of Left Ventricular Noncompaction Cardiomyopathy 71. Hereditary and Acquired Infiltrative Cardiomyopathy 72. Endomyocardial Fibrosis 73. Restriction versus Constriction 74. Echocardiography in Arrhythmogenic Right Ventricular Cardiomyopathy 75. Takotsubo Cardiomyopathy 76. Familial Cardiomyopathies Grace Hsieh, Jennifer Hellawell, Frederick L. Ruberg, Omar Siddiqi and Ravin Davidoff 77. Echocardiography in Cor Pulmonale and/or Pulmonary Heart Disease Section XIV Aortic Stenosis 78. Aortic Stenosis Morphology 79. Quantification of Aortic Stenosis Severity 80. Aortic Stenosis: Risk Stratification and Timing of Surgery 81. Risk Stratification - Timing of Surgery 82. Low-Flow, Low-Gradient Aortic Stenosis with Reduced Left Ventricular Ejection Fraction 83. Low-Flow, Low-Gradient Aortic Stenosis with Preserved Left Ventricular Ejection Fraction 84. Asymptomatic Severe Aortic Stenosis 85. Subaortic Stenosis Section XV Aortic Regurgitation 86. Aortic Regurgitation: Etiologies and Left Ventricular Responses 87. Aortic Regurgitation: Pathophysiology 88. Quantitation of Aortic Regurgitation 89. Risk Stratification: Timing of Surgery and Percutaneous Interventions for Aortic Regurgitation Section XVI Mitral Stenosis 90. Rheumatic Mitral Stenosis 91. Quantification of Mitral Stenosis 92. Nonrheumatic Etiologies of Mitral Stenosis: Situations that Mimic Mitral Stenosis 93. Role of Hemodynamic Stress Testing in Mitral Stenosis 94. Consequences of Mitral Stenosis Section XVII Mitral Regurgitation 95. Etiologies and Mechanisms of Mitral Valve Dysfunction 96. Mitral Valve Prolapse 97. Secondary Mitral Regurgitation 98. Quantification of Mitral Regurgitation 99. Asymptomatic Severe Mitral Regurgitation 100. Role of Exercise Stress Testing in Mitral Regurgitation Section XVIII Tricuspid and Pulmonic Valve Disease 101. Tricuspid Valve Complex: Anatomy by 2D and 3D Echocardiography 102. Epidemiology, Etiology and Natural History of Tricuspid Regurgitation 103. Quantification of Tricuspid Regurgitation 104. Indications for Tricuspid Valve Intervention 105. Imaging for Surgical and Percutaneous Tricuspid Valve Procedures 106

American Society of Echocardiography
In Stock
Most review copies are eBooks – how fast!
A review copy request is most likely to be fulfilled as an eBook on VitalSource rather than a print product, unless no eBook is available. eBooks become available in as little as a few hours. Print products will take between 7 and 10 days to arrive. To request a print copy, please contact the
Evolve Support Center
or your
Education Solutions Consultant
.