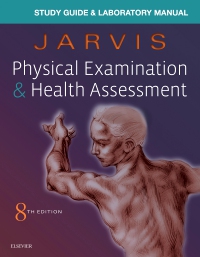 Publication Date:
02-06-2019
Study Guide & Laboratory Manual for Physical Examination & Health Assessment Elsevier E-Book on VitalSource, 8th Edition
Elsevier eBook on VitalSource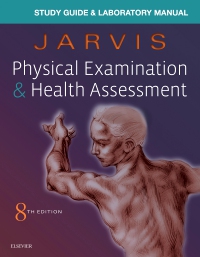 Publication Date:
02-06-2019
Or $0.00 with a valid access code
Both a comprehensive lab manual and a practical workbook, the Study Guide and Laboratory Manual for Physical Examination and Health Assessment 8th Edition, gives you the tools you need to master physical examination and health assessment skills. Corresponding to the best-selling Jarvis textbook, this guide features reading assignments, terminology reviews, application activities, review questions, clinical learning objectives, regional write-up sheets, and narrative summary forms, with answers at the back to facilitate both learning and review. The 8th Edition has been thoroughly updated throughout with a fresh focus on interprofessional collaboration to prepare you for the skills laboratory and interprofessional collaborative practice.
Authoritative review and guidance for laboratory experiences personally written by Dr. Jarvis to give you a seamlessly integrated study and clinical experience.
Consistent format throughout text includes Purpose, Reading Assignment, Terminology Review, Study Guide, and Review Questions in each chapter.
Essential review and guidance for laboratory experiences familiarizes you with physical examination forms and offers practice in recording narrative accounts of patient history and examination findings.
Study Guide in each chapter includes short-answer and fill-in-the-blank questions.
The only full-color illustrated lab manual available for a nursing health assessment textbook enhances learning value with full-color anatomy and physiology labeling activities and more.

NEW! Updated content throughout corresponds to the 8th edition of the Jarvis textbook and reflects the latest research and evidence-based practice.
NEW! Enhanced integration of interprofessional collaboration exercises helps you create an SBAR report based on a brief case.

1. Evidence-Based Assessment
2. Cultural Assessment
3. The Interview
4. The Complete Health History
5. Mental Status Assessment
6. Substance Use Assessment
7. Domestic and Family Violence Assessment
8. Assessment Techniques and Safety in the Clinical Setting
9. General Survey and Measurement
10. Vital Signs
11. Pain Assessment
12. Nutrition Assessment
13. Skin, Hair, and Nails
14. Head, Face, Neck, and Regional Lymphatics
15. Eyes
16. Ears
17. Nose, Mouth, and Throat
18. Breasts, Axillae, and Regional Lymphatics
19. Thorax and Lungs
20. Heart and Neck Vessels
21. Peripheral Vascular System and Lymphatic System
22. Abdomen
23. Musculoskeletal System
24. Neurologic System
25. Male Genitourinary System
26. Anus, Rectum, and Prostate
27. Female Genitourinary System
28. The Complete Health Assessment: Adult
29. The Complete Physical Assessment: Infant, Young Child, and Adolescent
30. Bedside Assessment and Electronic Documentation
31. The Pregnant Woman
32. Functional Assessment of the Older Adult

Carolyn Jarvis, PhD, APN, CNP, Professor Emerita, School of Nursing, Illinois Wesleyan University; Certified Nurse Practitioner (retired), Bloomington, Illinois