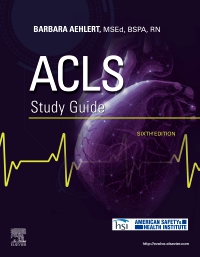 Publication Date:
11-02-2021
ACLS Study Guide, 6th Edition
Paperback
Publication Date:
11-02-2021
Help your students build the knowledge and skills needed for emergency cardiovascular care! ACLS Study Guide, 6th Edition provides a comprehensive, easy-to-understand overview of advanced cardiovascular life support. With case studies and hundreds of full-color photos and illustrations, this guide covers everything from airway management to cardiac arrest rhythms and electrophysiology, tachycardias and bradycardias, acute coronary syndromes, and acute ischemic stroke. Discussions of the newest ECC guidelines and ACLS treatment algorithms help students learn to manage common cardiac conditions. It's ideal for use with the American Safety & Health Institute ACLS certification course!
Easy-to-understand approach simplifies your study of advanced cardiac life support, thanks to Barbara Aehlert's unique, conversational writing style.
Case studies describe real-world examples of common clinical situations, helping you master skills in cardiac rhythm interpretation, medication administration, and other essential interventions.
Evidence-based practice recommendations are provided for emergency medical treatment.
ACLS Pearl boxes offer brief explanations of complex topics and useful tips for clinical practice.
Keeping It Simple boxes provide clear and concise summaries of key points along with memory aids.
End-of-chapter quizzes include answers and rationales, helping you remember the most important information.

NEW! Updated content includes the latest guidelines from the American Heart Association Guidelines for Cardiopulmonary Resuscitation and Emergency Cardiovascular Care and the International Consensus on Cardiopulmonary Resuscitation and Emergency Cardiovascular Care Science with Treatment Recommendations.
NEW! 20 new illustrations are added to the book's hundreds of illustrations.

1. Chain of Survival and High-Quality Cardiopulmonary Resuscitation
2. Teams
3. Patient Assessment and Resuscitation Therapies
4. The Patient With Respiratory Compromise
5. Bradycardias
6. Tachycardias
7. Cardiac Arrest Rhythms
8. Acute Coronary Syndromes
9. Acute Ischemic Stroke
10. Posttest
Glossary
Index

Barbara J Aehlert, MSEd, BSPA, RN, Southwest EMS Education, Inc.