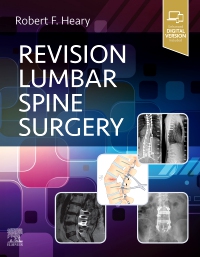 Publication Date:
03-30-2021
Revision Lumbar Spine Surgery, 1st Edition
Hardcover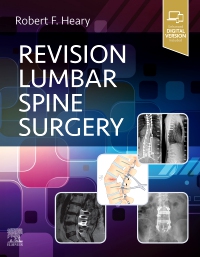 Publication Date:
03-30-2021
1. Anatomy and Physiology/Biology of Bone

2. The Role of Osteoporosis and Bone Diseases in Revision Spine Surgery

3. Medical Fitness Evaluation

4. Indications

5. Imaging Considerations (Magnetic Resonance, Computed Tomography, Myelography, Plain)

6. Dural Scarring and Repair Issues

7. Decompression

8. Disc Herniation (Primary, Recurrent, Residual)

9. Instrumentation Options

10. Autograft/Allograft/Cage/Bone Morphogenetic Protein

11. Minimally Invasive Surgery and Navigation

12. Anterior Lumbar Fusion

13. Revision Transforaminal Lumbar Interbody Fusion

14. Lateral Lumbar Interbody Fusion

15. Anterior-Posterior Surgeries

16. Unilateral Versus Bilateral Strut Placement in Revision Spine Surgery

17. Robotics for Revision Spine Surgery

18. Pedicle Subtraction Osteotomy

19. Vertebral Column Resection

20. Revision Lumbar Deformity Surgery

21. Postoperative Considerations

22. Adjacent Segment Disease After Fusion

23. Pseudarthrosis/Nonunion

24. Iatrogenic Spinal Instability: Causes, Evaluation, Treatment, and Prevention

25. Advances in Spinal Cord Stimulation

Robert F. Heary, MD, Robert F. Heary, M.D. is a Professor of Neurosurgery at the Hackensack Meridian School of Medicine located in Nutley, New Jersey. He is also the Medical Director of the Montclair Spine Center at Mountainside Medical Center in Montclair, New Jersey. He is one of the premier physicians in comprehensive spine care providing a full range of conservative and surgical interventions for a wide range of spinal disorders. Dr. Heary is renowned nationally and internationally for his extraordinary fund of knowledge regarding all aspects of care for spine patients.