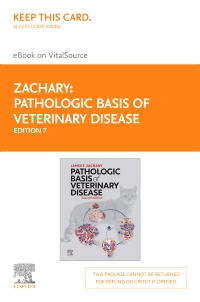 Publication Date:
01-18-2022
Pathologic Basis of Veterinary Disease - Elsevier E-Book on VitalSource (Retail Access Card), 7th Edition
Elsevier eBook on VitalSource - Access Card
Publication Date:
01-18-2022
This item has low stock levels and may be back-ordered. We'll let you know if it is back-ordered, and you will not be charged until the item ships.
Choose the #1 veterinary textbook on general pathology and the pathology of organ systems! Pathologic Basis of Veterinary Disease, 7th Edition helps your students use the latest scientific and medical information to understand and diagnose animal disorders. Focusing on dogs, cats, horses, cattle, sheep, goats, and pigs, this reference illustrates and explores the pathogeneses of animal diseases, how cells and tissues respond to injury, and the morphology (lesions) of injury. New to this edition is basic coverage of tumor, inflammatory, and microbial cytology. An enhanced eBook version included with every new print purchase includes access to a complete, fully searchable version of the text, an image collection, and much more – available on a variety of devices.
Clear, up-to-date illustrations and explanations of the macroscopic (gross) and microscopic lesions resulting from diseases occurring in domestic animals
Complete coverage of both general pathology and the pathology of organ systems that includes the latest research, practice, and diagnostic information on disease mechanisms, pathogenesis, and lesions.
Clear explanations of disease mechanisms that describe cell, tissue, and organ system responses to injury and infection.
Easy-to-follow organization for each systemic disease chapter including a brief review of the study of diseases that occur in specific tissues, organs, and organ systems, with basic principles related to anatomy, structure, and function, followed by congenital and functional abnormalities and discussions of infectious disease responses, helping students apply principles to veterinary practice.
More than 2,100 full-color illustrations featuring color photographs, schematics, flow charts, and diagrammatic representations of disease processes as well as summary tables and boxes, making it easier to understand difficult concepts.
Content on cellular and organ system pathology updated throughout the book, with expanded coverage of genetics and disease.
Key Readings Index in each chapter with page numbers for key topics.
Essential Concept boxes in each General Pathology chapter break down complicated topics that are critical to understanding lesions and pathogeneses.
More than 20 recognized experts deliver the most relevant information for the practitioner, student, or individual preparing for the American College of Veterinary Pathologists' board examination.
An enhanced eBook is included with new print purchase, featuring the complete, fully searchable text plus an image collection; the text, tables, and boxes linked to the website that are cited throughout the book; ten new appendices that focus on veterinary diagnostic pathology, postmortem examination, interpretation of lesions, and more; plus an established appendix of photographic techniques used in veterinary diagnostic pathology.

NEW! Coverage of the cytomorphology and histomorphology of tumors, inflammatory cells and exudates, and microbes commonly seen in the practice of veterinary medicine.
NEW! Coverage of a procedure used to collect specimens for cytologic evaluation.
NEW! Pathogenesis Pathways flowcharts designed to arrange each step of a disorder in chronologic, mechanistic order.

Section I Opener Art

1. Mechanisms and Morphology of Cellular Injury, Adaptation, and Death

2. Vascular Disorders and Thrombosis

3. Inflammation and Healing

4. Mechanisms of Microbial Infections

5. Diseases of Immunity

6. Neoplasia and Tumor Biology

Section II Opener Art

7. Alimentary System and the Peritoneum, Omentum, Mesentery, and Peritoneal Cavity

8. Hepatobiliary System and Exocrine Pancreas

9. Respiratory System, Thoracic Cavities, Mediastinum, and Pleurae

10. Cardiovascular System and Lymphatic Vessels

11. The Urinary System

12. Endocrine System

13. Bone Marrow, Blood Cells, and the Lymphoid/Lymphatic System

14. Nervous System

15. Skeletal Muscle

16. Bones, Joints, Tendons, and Ligaments

17. The Integument

18. Female Reproductive System and Mammae

19. Male Reproductive System

20. The Ear

21. The Eye

Appendix A - Communication, Collaboration, and Consultation in Veterinary Pathology

Appendix B - Photographic Techniques in Veterinary Pathology

Appendix C - Postmortem Examination (Autopsy) of Domestic Animal Species

Appendix D - Recognition and Interpretation of Macroscopic (Gross) Lesions

Appendix E - Diagnoses in Veterinary Pathology

Appendix F - General Principles of Tissue Fixation and Processing

Appendix G - Fixatives and Fixation

Appendix H - Fixation and Trimming of the Brain, Spinal Cord, and Nerves

Appendix I - Surgical Biopsies: Procurement, Processing, and Sectioning Artifacts

Appendix J - Gross Examination and Infusion Fixation of the Lung

Appendix K - Necropsy Techniques by Organ System

James F. Zachary, DVM, PhD, Diplomate, American Colllege of Veterinary Pathologists; Professor of Veterinary Pathology, Department of Pathobiology, College of Veterinary Medicine, University of Illinois, Urbana, IL