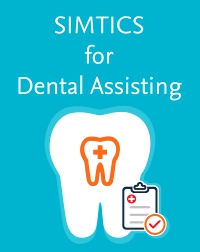 Publication Date:
12-27-2021
SIMTICS Dental Assisting - Access Card, 1st Edition
Simulations - SIMTICS - Access Card
Publication Date:
12-27-2021
Elsevier has partnered with SimTutor to deliver SIMTICS for Dental Assisting. These high-quality online simulations for dental assisting students bring learning to life for improved academic performance, confidence, and mastery of complex procedures. Students can access modules to learn and practice a wide range of dental procedures and protocols online, anytime and anywhere. No downloads or special equipment required!
Modules cover key topics, including infection control, patient exams and charting, chairside assisting, restorations, and dental radiology.
Each module includes a demonstration video, explanatory text with illustrations, an anatomy section with 2D and 3D images, three different simulation scenarios, and a quiz.
Simulation modules are mapped to Elsevier's trusted dental assisting text, Bird & Robinson: Modern Dental Assisting.
Videos, 3D visuals, and rich text provide you with detailed, step-by-step guidance on performing procedures.
LMS integration makes it easy to access modules through a single sign-on.
Automatically graded quizzes help you assess your understanding of key concepts.

Disinfection, Sterilization and Bloodborne Pathogens Part 1: Disinfection
Disinfection, Sterilization and Bloodborne Pathogens Part 2: Sterilization
Assist with Dental Patient Examination (including Charting)
Practice Dental Charting (extra simulations)
Assist with Anesthetic Delivery
Assist with Amalgam Restoration
Assist with Composite Restoration
Assist with Minor Oral Surgery
Dental Radiography 1 — Parallel
Dental Radiography 2 — Bisecting
Obtain Vital Signs — Adult
Obtain Vital Signs — Pediatric
Dental Impressions
Crown and Bridge
Root Canals
Dental Charting
Time Management
Teamwork
Communication
Ethical and Legal Issues
Five Comprehensive Review Modules

SimTutor