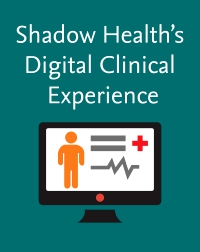 Publication Date:
01-23-2023
Medical-Surgical Digital Clinical Experiences - Access Card, 1st Edition
Shadow Health - Access Card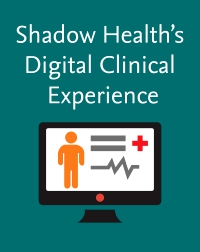 Publication Date:
01-23-2023
Shadow Health's Digital Clinical Experiences™ for Medical-Surgical Nursing provide state-of-the-art simulations that put the patient at the forefront of the learning experience. Students interact with a diverse cast of virtual patients that present with a wide range of health conditions — all in a safe, standardized environment. Conversation-based learning allows students to engage with patients using their own words to gather subjective data and practice therapeutic communication. Performance assessment tools provide valid, reliable, and immediate insight into students' clinical reasoning abilities and level of proficiency. These meaningful interactions help students gain valuable experience in practical application and patient-centered communication, empowering them to improve patient outcomes in their clinical practice.
Digital Standardized Patients™ vary in age, race, socioeconomic status, gender identity, and sexual orientation and have a wide range of health conditions. Their health histories and current concerns are designed to support your mastery of nursing principles in a wide spectrum of medical situations.
Natural language Conversation Engine allows you to engage with simulated patients using your own words to gather subjective data and practice therapeutic communication.
Student Performance Index provides you with immediate, valid, and reliable measurements of clinical reasoning, as well as detailed feedback to identify areas of strength and opportunities for remediation.
Patient Exam activities allow you to demonstrate their clinical reasoning abilities by assessing virtual patients -- gathering subjective and objective data, providing education and empathy, and reporting your findings in the electronic health record.
Care Plan activities challenge you to draw upon your patient assessment in order to make a nursing diagnosis, identify a short-term healthcare goal, determine appropriate interventions, identify appropriate data to collect, provide patient education, and evaluate your plan's success.
Concept Labs assignments dive deeper into the structure and function of specific body systems as well as pharmacological concepts. Rich visuals and animations bring these concepts to life, and dynamic comprehension checks challenge you to strengthen your understanding.

Shadow Health